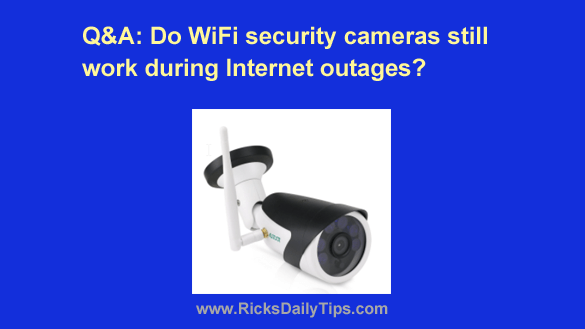 Question from Carl B.:  I'm thinking about hiring someone to install some WiFi security cameras around my house.
The way I understand it they'll communicate with my PC via my router's WiFi connection.
What I'd like to know is will the cameras still work when my Charter Internet is down?
It doesn't go out very often, but when it does it's sometimes a week or more before they get it back online.
Also, if I decide to go ahead and have them installed, will I need to hire a security company to do it or will a regular handyman be able to handle the job?
Thanks in advance for your help. I've been reading your blog for a good while and I trust your advice.
Rick's answer:  Carl, your WiFi security cameras will work just fine on your local wireless network even without a working Internet connection.
As long as your wireless router is turned on and the WiFi signal is enabled, you'll still be able to monitor your cameras from a local computer or mobile device that has an active WiFi connection to your router.
That being said, you won't be able to monitor the cameras via the Internet from a remote computer or mobile device unless your Internet connection is up and running properly.
And that's a very nice feature that sure comes in handy when you're on the road, but if you don't travel very much it shouldn't really be a consideration.
Bottom line:  My advice is to go ahead and install the cameras and use them to protect your home. After all, your Internet connection is likely to be working most all the time, and even when it isn't you'll still be able to monitor the cameras locally.
What's more, just having the cameras in plain view just might be enough to  deter all but the most brazen burglars.
And by the way, you can probably install your new cameras yourself instead of hiring a pro to do it for you.
There are no cables to run, and the step-by-step instructions that come with most of the WiFi cameras that are on the market today
(#ad) are very easy to understand and follow.
I hope this helps Carl. Good luck!
Bonus tip #1: A while back I wrote a review of the SimpliSafe Wireless Home Security System. Click here to check it out.
Bonus tip #2: Want to make sure you never miss one of my tips? It's easy! Just…
Click here to sign up for my free Rick's Daily Tips Email Newsletter!
---
Would you like to ask Rick a tech question? If so, click here and send it in!
If you found this post useful, would you mind helping me out by sharing it? Just click one of the handy social media sharing buttons below. Thanks a bunch!