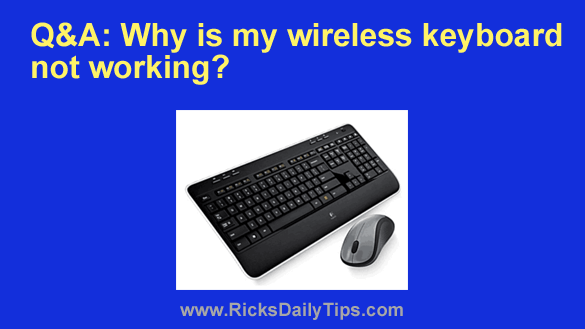 Question from Elliot:  About two years ago I bought a wireless keyboard/mouse combo to make it easier to use my laptop. I hate those trackpads and small keyboards!
I was typing an email this morning and all of a sudden the keyboard just stopped working. I figured the batteries needed to be replaced, but new ones didn't fix the problem.
The mouse still works fine and a wired keyboard I plugged in works too. I rebooted the laptop but that didn't help.
What do you think might be the problem? No real hurry for your answer because I'm able to use the wired keyboard while I'm waiting.
Rick's answer:  It sounds to me like your wireless keyboard has gone belly up, Elliot. The USB transmitter is obviously ok because your mouse is still working, which leaves the keyboard itself as the most likely problem.
But just to be sure the problem isn't the keyboard driver, I'd give this try before doing anything else:
1 – Click the Start button.
2 – Type the word device and then select Device Manager from the list of search results.
3 – Click on the little arrow to the left of the word "Keyboards" to expand the Keyboards section.
4 – Right-click on the entry for the wireless keyboard, then click Update driver.
If Windows recognizes the wireless keyboard and installs a fresh driver for it, check to see if the keyboard now works. If it doesn't, you definitely have a bad keyboard.
You can also safely assume that you have a bad keyboard if Windows fails to recognize it at all in the Device Manager.
If your keyboard is indeed bad (and I'm virtually certain that it is), check to see if it's still under warranty. Some wireless keyboards come with warranties that are good for up to 3 years. If so, you can request a replacement.
If the keyboard is out of warranty, you can simply purchase a new wireless keyboard.
I hope this helps, Elliot. Good luck!
Update from Elliot:  You were right. A new wireless keyboard fixed it. Thanks for the help.
---