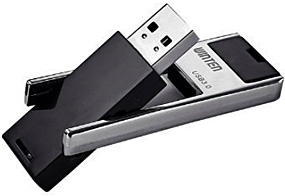 Wouldn't it be nice to have an inexpensive 256GB SSD that plugs into a USB port and fits in your shirt pocket? Well, you can now buy external SSD's that do fit in your pocket, but they'll set you back a pretty penny.
But luckily there is a much less expensive alternative.
With the blazing fast speed of the USB 3.0 interface, a high capacity thumb drive truly is almost like having a portable SSD that you can carry with you anywhere and plug into virtually any PC. 
The Winten 256GB USB 3.0 thumb drive costs about the same as many thumb drives with just half the capacity! In my opinion, this drive is a great deal.
The possibilities for using a thumb drive with a whopping 256GB of storage are endless. In fact, I just wrote a post a while back that answered a question about the pros and cons of backing up a hard drive onto a large USB flash drive.
A quick glance at the specs reveals that the Winten 256GB thumb drive isn't the fastest USB flash drive on the market, but it certainly isn't slow. And in terms of bang for the buck it's pretty hard to beat.