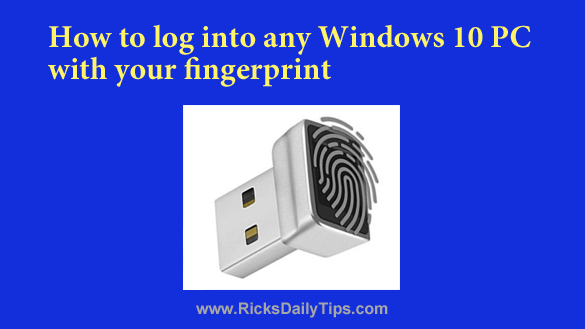 Note: The links in this post are affiliate links.
Would you enjoy the convenience of logging into your Windows 10 laptop or desktop computer with a quick touch of your finger?
Windows 10 now has a feature called Windows 10 Hello that adds fingerprint login capability to any computer it's running on.
But there's a problem: Not every computer running Windows 10 has a fingerprint reader.
Well, now you can get an inexpensive fingerprint reader that adds fingerprint recognition and login capability to any PC running the latest versions of Windows 10.
These handy fingerprint readers plug into an open USB port. Once installed, simply follow the simple instructions to configure Windows Hello to scan your fingerprint and store it in it's database.
From then on you'll be able to log in to your PC just by touching the fingerprint reader! Pretty neat, huh?
There are lots of good fingerprint readers out there. Just choose one that has excellent user reviews and that's affordable.
What's more, these things couldn't be easier to use. Simply plug the device into an open USB port and touch it to log in.
I believe biometric logins will completely replace passwords before too long, and this is your chance to get ahead of the game.
Bottom line: Why hassle with passwords when you can save time logging into your computer with a quick touch of your finger?
Now you can add fingerprint recognition to your Windows 10 PC for about what you'd pay for dinner at a nice restaurant!