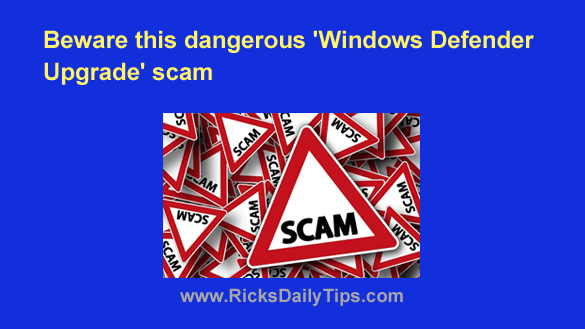 Well, another dangerous recurring scam is making the rounds again.
It's being spread via both email and SMS test messages, and unfortunately lots of innocent people are falling for it.
As usual, there are several variations of this scam, but luckily they're all very easy to detect and avoid once you know what to look for.
Note: There are so many variations of these fraudulent emails and text messages going around that I decided it would be pointless to provide a screenshot. All you'll really need are the details below in order to recognize and avoid the scam.
Some potential victims are receiving fraudulent emails or text messages that appear to be from either Microsoft or the "Windows Defender Store" (which doesn't exist).
The fraudulent emails and text messages are about a fake upgrade to an enhanced version of Windows Defender or Microsoft Defender, depending on the term used in the email or text that was received.
In one version of the scam the recipients are advised that they need to upgrade the Windows Defender / Microsoft Defender that's included as part of Windows to an enhanced version in order to fully protect their machines from malware.
The messages include either a phone number to call or a link to click in order to purchase the non-existent upgrade.
Another version of the scam is in the form of a fake receipt indicating that you've already purchased the upgrade for a hefty fee (usually several hundred dollars).
The fake receipt has either a phone number or a link to a web page you can use to contact "Microsoft" or the non-existent "Windows Defender Store" to dispute the charge (that was actually never made in the first place).
If you call that phone number or visit the web page you'll be asked to provide the information required to either complete a fraudulent purchase or dispute the alleged charge.
Either way, all you'll end up doing if you decide to comply is hand over your personal and financial info to a scammer. And you know how that always ends up.
And as a bonus, visiting the fake website will likely infect your PC with malware. How's that for some serious irony?
Always remember this…
Microsoft Defender is a free security tool that's included with every Windows installation. You don't need to pay for it.
What's more, there are no fees required in order to install updates to the software. Those are free as well.
Bottom line: If you receive one of these fraudulent emails or text messages simply delete it and forget about it.
If you've already fallen for the scam you need to immediately do all of the following:
1 – Contact your bank or credit card company and tell them what happened so they can advise you on how to proceed.
2 – Either request a freeze on your credit profile or begin keeping a very close eye on your credit reports.
3 – Thoroughly scan your PC for malware.
I hope this will be a help to you. Just always remember to stay vigilant when it comes to protecting your identity and your money!
---