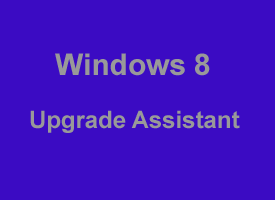 Now that Windows 8 has been out for a while you might be wondering if you should buy the Windows 8 upgrade package and install it on your computer. If you're a regular reader of RicksDailyTips you already know from reading this post that I don't really think so.
That being said, there are some valid reasons for upgrading your PC to Windows 8. If you're considering taking the plunge, the first thing to do is determine whether or not your PC can even run Windows 8. According to Microsoft, the minimum system requirements for running it are as follows:
– Processor: 1 gigahertz (GHz) or faster with support for PAE, NX, and SSE2
– RAM: 1 gigabyte (GB) (32-bit) or 2 GB (64-bit)
– Hard disk space: 16 GB (32-bit) or 20 GB (64-bit)
– Graphics card: Microsoft DirectX 9 graphics device with WDDM driver
– Several other miscellaneous requirements for running various Windows 8 features
Even if your PC's hardware meets these minimum requirements, there might still be compatibility issues with some of your software and peripherals. To make the process of determining whether you can run Windows 8 with your current hardware, peripherals and software as fast and easy as possible, Microsoft has created a free tool called the Windows 8 Upgrade Assistant. All you have to do is download it from Microsoft's website, then install and run it. You'll see a screen like this while the scan is in progress:
After the Upgrade Assistant has finished scanning your system you'll be presented with a thorough report listing any incompatibilities it finds: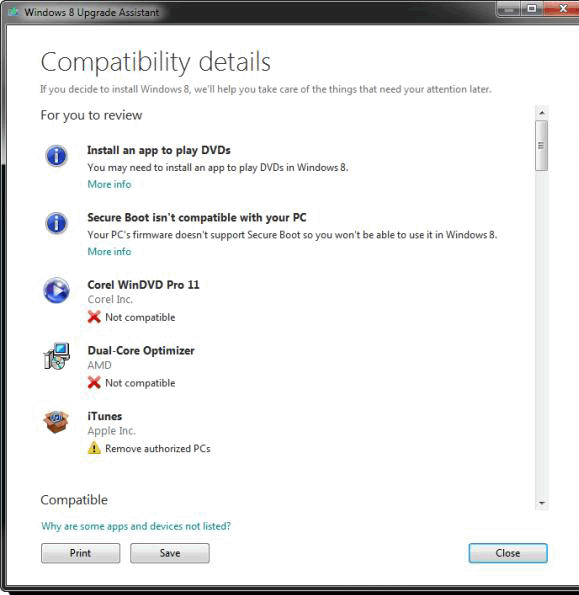 Some incompatibilities might not be deal breakers, but others might. At least you'll have something solid to base your decision on.