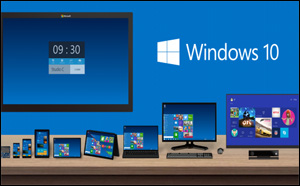 Microsoft announced yesterday in a blog post that Windows 10 will be released "this summer". The term "this summer" is pretty ambiguous, but I believe they'll want to get it out to the masses as soon as they can.
The much-maligned Windows 8's replacement was widely expected to be released some time around October, but yesterday's announcement leaves open the possibility that it could be released much sooner. 
I've been running the Windows 10 Technical Preview on one of my PCs since October of last year, and I really like it. It fixes virtually all of the annoyances of Windows 8 while making Windows faster and easier to use. I truly believe that most Windows 7 users will welcome the upgrade to Windows 10 as much as they dreaded upgrading to Windows 8.
As I mentioned in previous posts, Windows 10 will be a FREE upgrade for users of Windows 7 and Windows 8 during the first year after its release. At the end of that first year, we'll probably be required to pay for the OS.
Exactly how that payment process will work is being debated as we speak, but I believe Microsoft will offer two plans (what follows are "educated guesses" on my part):
1 – Buy a Windows 10 license outright the same way we have always purchased Windows. We'll be able to use that copy of Windows for as long as we own the computer it's installed on and receive free updates for it as long as Microsoft continues releasing them.
If we want to upgrade to the next version of Windows when it's released, we'll have to pay for it like we have always had to pay for new Windows versions. Basically, if we choose this option the purchase and upgrade process will work exactly like it does now.
2 – Purchase a yearly subscription to Windows which will cover all updates and upgrades (including new versions of Windows such as Windows 11, Windows 12, etc.) in perpetuity as long as we continue paying the yearly subscription fee.
The yearly subscription fee will likely be a lot less than we would have to pay for a one-time Windows license, but we'll have to pay it each and every year.
Why do I believe that Microsoft is planning to offer a yearly Windows subscription? Because they recently trademarked the term "Windows 365".
I understand that many users won't like the idea of paying a fee every year in order to keep using their current Windows license, but I actually like that idea. Here's why:
1 – Your PC will always be running the very latest, most up-to-date version of Windows. When "Windows 11" and later versions are released, you'll simply install them as updates from the online Windows Store. The update process will be fast, easy and seamless.
2 – When the time comes to replace your computer with a new one, you won't have to buy a new copy of Windows to install on it. You can simply download Windows from the Microsoft website onto your new PC, then activate it using the Windows Product Code that belongs to your current Windows installation.
Bottom line: Windows 10 will be here soon, and I believe most everyone who tries it will think it's a worthy upgrade.