Most people assume that their Wi-Fi connection is safe from hackers if it is secured with encryption and a password, but the sad truth is even a "protected" Wi-Fi connection can be broken into by a determined hacker using the right software.
If you suspect that someone might be piggybacking on your wireless network (and even if you don't), I suggest downloading and running a free tool called WiFi Guard.
WiFi Guard is a small and lightweight utility that will scan your entire network and list all the devices connected to it including computers, tablets, smart phones, wireless printers and more. If it's logged into your network, it'll show up!
Using WiFi Guard is easy. Here's how: 
1 – Visit this page and scroll all the way to the bottom where you'll find a box with a green header labeled "Product Info & Download".
2 – Select your operating system in the drop-down list (Windows is the default) and then click the Download WiFi Guard button.
3 – Install WiFi Guard onto your computer and run it.
4 – Select a network adapter from the dropdown list (you'll only have to do this the first time you run the program) and then click Scan Now. After the scanning is complete you'll be presented with a list of all the devices that are currently connected to your network. Here's a screenshot: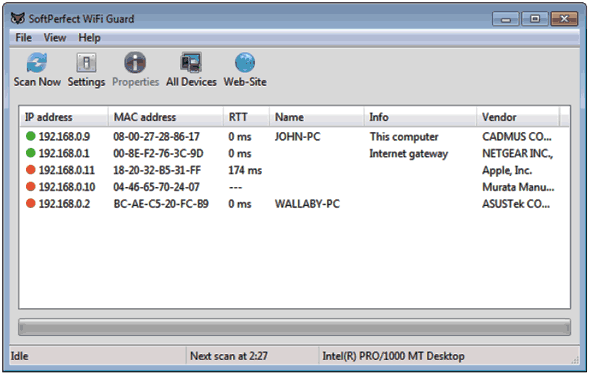 You'll be able to see at a glance if there are any unrecognized (and unauthorized) users on your Wi-Fi network. If there are, I suggest that you reboot your router and change your Wi-Fi password to something that's easy to remember, yet hard to crack. This post explains how to do that.
Like this post? If so, I hope you'll consider sharing it with your friends.
And by the way, you can get even more tips in my weekly RicksDailyTips Email Newsletter. Sign up for free at the bottom of this page!