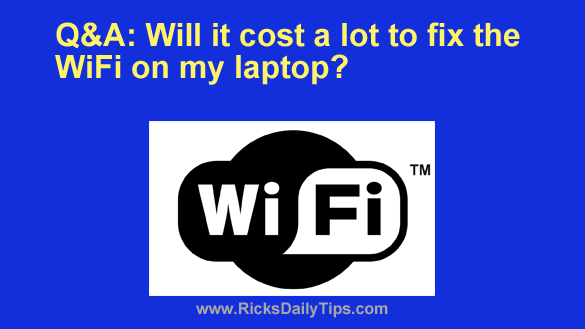 Note: The links in this post are affiliate links.
Question from Fred:  I have a 2 year old Lenovo laptop. It was working fine till yesterday evening but now the Wi-Fi won't work.
I thought it might be a setting, but the Wi-Fi adapter isn't even showing up in the Device Manager under Windows 11.
Since it won't work with Windows, I tried booting into Linux Mint (I have a dual-boot setup). Mint won't recognize the Wi-Fi adapter either so I'm thinking it must be a hardware problem.
Can this be fixed without costing me an arm and a leg? 
I'm not really concerned with having it work with Mint, but I really need to get it working with Windows.
Rick's answer:  Fred, you're correct that this is almost certainly a hardware problem, but "fixing it" really isn't worth the trouble and expense in my opinion.
What I would do if I were you is simply buy a good USB wireless adapter, then plug it in and forget about it.
If you want a recommendation for a particular device, I use and recommend this one.
Although there are faster USB WiFi adapters out there, I really like this one because it works perfectly with every computer I've tried it with, and it's very reasonably priced.
I hope this helps, Fred. Good luck!
Update from Fred:  Sound good to me, Rick. I just ordered one. I'll let you know how it works out.
---