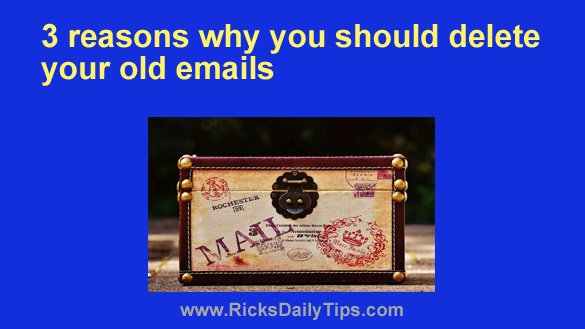 There was a time when I used to keep every email I received that wasn't SPAM because I mistakenly thought I might need to pull them up again at some point.
But over time my thinking on that evolved. A lot.
If you tend to hold on to all of your old emails thinking you might need them in the future, here are three reasons why you might want to reconsider: 

1 – You'll probably never actually need them.
At the time I made the decision to stop hoarding my old emails I had over 11,000 of them in my "Archive" folder, and almost 2,000 in my Inbox.
And guess what? I only ended up going back to re-read about three of four of them.
Yes, there were several more I really did want to re-read, but I couldn't find them because they were buried under the debris of all those other stored emails. And guess what? The search tool was no help.

2 – Archived emails use up your account's free storage space.
If you use virtually any brand of web mail (i.e. Gmail, Yahoo Mail, Outlook.com, etc.) you're only allotted a set amount of free storage.
Even worse, your emails likely have to share that storage allotment with other services you have with that same company.
While several Gigabytes sounds like a lot of storage, you might be surprised at how quickly it'll fill up, and once it does you'll either have to purge a bunch of old emails (or photos) in order to make room for new ones unless you're willing to start paying a monthly fee for additional storage.

3 – Storing old emails can be a security risk.
If you archive every email you receive then your account is likely storing numerous emails that contain all kinds of sensitive information that could be used in malicious ways if your email account ever gets compromised.
And as you probably know, hackers break into email accounts all the time – occasionally en masse.
Think back to some of the emails you've received in the past. Some of them likely contained account numbers, phone numbers, email addresses, physical addresses, full names, birthdates…and maybe even usernames and passwords.
Those are things a hacker could use to steal your identity (or the other party's identity) and even put someone's physical security at risk.

That takes care of the negatives associated with keeping tons of old emails. Now, here are a few positives of deleting them:

1 – You'll have a cleaner and better managed Inbox and Archive folder.
If you get rid of most of your currently archived emails and clean out your Inbox you'll likely discover that your email handling tasks become a lot more efficient.
When new emails come in you'll be able to read them and take action on them (or not) right away because they won't get visually lost in a sea of old messages.

2 – You'll be able to quickly find the few truly important emails when you need them.
It's a lot easier to scan through a few dozen (or even a few hundred) emails than several thousand. And your searches will be more efficient too.

3 – You won't have to worry about maxing out your free storage.
If you get into the habit of only keeping emails that are truly worthy of keeping, you'll probably be able to easily get by with your allotment of free storage space forever, especially if your emails typically take up most of that storage space.

And finally, here are a few recommendations:

1 – Get (and keep) your Inbox in tip-top shape.
First, go through your Inbox and delete every email that you don't actually need to keep.
Next, read and take action (if required) on your new emails as soon as possible after they arrive, then delete them unless you believe there's a strong likelihood that you'll need to access them again in the future.

2 – Clean out your Archive folder, and use it correctly.
Your Archive folder should be the home of the relatively few emails that you really need to hang onto.
I recommend that you perform a major purge of archived emails, trashing every one of them that isn't truly important.

3 – Move important emails from your Inbox to the Archive folder.
Once you have cleaned up your Archive folder, go back to your Inbox and move every email that you want to keep into the Archive folder.
As I eventually learned, following a strict rule of only storing emails that you're actively working with in your Inbox will pay huge dividends later.