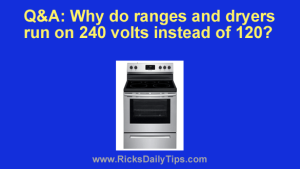 Question from Brenda:  I'm having my house renovated and I'm in the process of ordering all new appliances.
The man at Home Depot said I'd have to pay extra for a special cord for both the electric range and the clothes dryer because they run on 240 volts instead of 120.
When I asked him why he said he didn't know, but that's just the way it is.
My question is, why do ranges and dryers use 240 volts when all the other appliances use 120 volts? 
It seems to me that it would be a lot simpler if everything just ran on the same voltage.
Rick's answer:  Brenda, electric ranges and clothes dryers share one trait that other common household appliances don't: They both consume more power than a standard 120 volt circuit can safely supply.
Here's a quick explanation:
Electric power is computed using a very simple math equation: Wattage = Voltage x Current
That means an electric appliance that operates at 240 volts will only draw half as much current at a given wattage than the same appliance operating at 120 volts would draw.
Now, consider the following:
1 – Current flows more efficiently at higher voltages, which saves users money on their electric bills.
2 – Less current flowing allows the use of smaller gauge wires, which saves a considerable amount of money when purchasing the wire needed to connect an appliance to the breaker panel.
As you can see, there are several advantages of operating an appliance that consumes a lot of power at a higher voltage instead of a lower one.
That's all there is to it, Brenda. I hope this helps.
Best of luck with your home renovation!
---