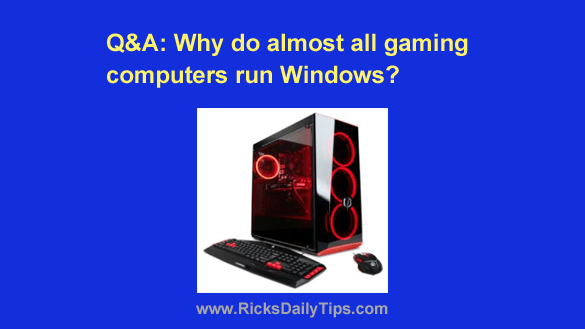 Note: The links in this post are affiliate links.
Question from Rita.:  My son has been wanting a nice gaming computer and I'm planning to buy him one for his 12th birthday.
I looked at the gaming computers on Amazon and virtually every computer that came up runs Windows 10. It was the same thing at Best Buy.
My son has been playing around with Linux for a while and he really likes it. That's why I'm trying to find a gaming PC with Linux on it.
My question is why aren't there any gaming computers that run Linux? And if there are some, can you recommend one?
Rick's answer:  That's a great question Rita, and there's one simple answer: There are a LOT more Windows PCs in the world than there are Linux computers.
Game developers target the Windows market because that's where the real profit potential lies.
Those companies have limited R&D and marketing budgets so they need to spend their money and concentrate their efforts on the population that promises the most return for their investments, and right now that population is Windows users.
That's also why there are more viruses aimed at Windows machines than Linux boxes or Macs.
The miscreants who write and distribute malware prefer to concentrate their efforts on the largest population of potential victims – which happens to be Windows users.
The bottom line is this: The most popular games (by sales and download stats) typically run on Windows machines.
If you were to search for "computer games" on Amazon or Best Buy you would see that the vast majority of games that come up in the search results are Windows games. Hence, the vast majority of gaming computers run Windows.
There is also a secondary reason why gaming PCs tend to be Windows machines: Windows is simply better suited for gaming because it has much better support for gaming and the more powerful hardware that's typically required for running the most resource-intensive games.
Of course that would change if market forces demanded it (i.e. if more people started wanting to buy Linux gaming computers), but I don't look for that to happen any time soon.
That pretty much answers your original question Rita, but you also asked for a recommendation for a good gaming PC if there was one that runs Linux.
Well, truth be told, I wouldn't feel comfortable recommending ANY Linux gaming computer for the reasons mentioned above.
While there are various ways to run Windows games on a Linux machine (and some of them work pretty well), your son will most likely enjoy the best gaming experience if he simply runs them on a Windows machine instead.
For that reason, I strongly recommend that you get your son a Windows gaming PC instead.
By the way, you didn't specify a budget range for your son's gaming PC so it would be difficult to come up with a specific recommendation.
Therefore, I recommend that you check out the available machines and pick out a few that catch your interest. Then send that list to me and I'll compare the various models and help you choose the best one that fits within your budget.
I hope this helps, Rita. Good luck!
Update from Rita:  That makes a lot of sense Rick. Thanks for taking the time to explain it to me. You've been a big help!
---
Never miss a tip!  Click here to sign up for my free Daily Tech Tips Email Newsletter!