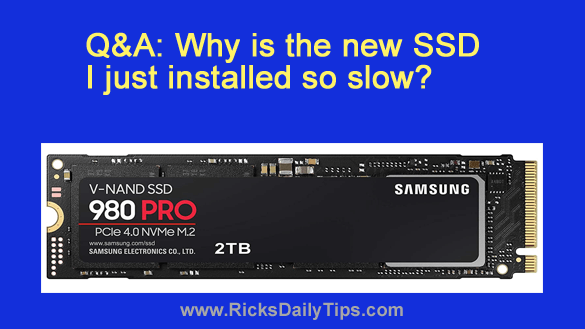 Note: The links in this post are affiliate links.
Question from Robert:  About a year ago I built a new gaming PC and installed Windows 11 on it.
A few days ago I installed this Samsung 980 Pro 2TB NVMe M.2 SSD thinking it would be a LOT faster than the hard drive.
Well, it isn't. It actually takes forever for some games to load. 
I built this machine by following the instructions in a YouTube video so there's a good chance I did something wrong.
Can you tell me what to check first to try to find out why it's so slow (and fix it)?
Rick's answer:  Robert, that SSD you just installed is awesome. Once you get this speed issue resolved you're going to love it.
It could possibly be something else causing this, but it's most likely a bug in the Windows 11 code that's throttling NVMe SSDs like yours.
Luckily, there's a fix for this bug that Microsoft has released in the form of a Windows Update (KB5007262), but since you just recently installed this SSD in your system it probably hasn't been installed yet.
You should be able to install it manually by following the steps below:
1 – Click the Start button to display the Start menu, then type the word updates.
2 – Select Check for updates from the list of search results.
3 – If the check finds any available updates, install them.
4 – Restart your PC and then check to see if your SSD read speeds have improved. If not, let me know and I'll tell you what to try next.
Let me know how it goes, Robert. Good luck!
Update from Robert:  That did it. Everything is loading fast as lightning now!
Thanks for your help. I really appreciate it.
---