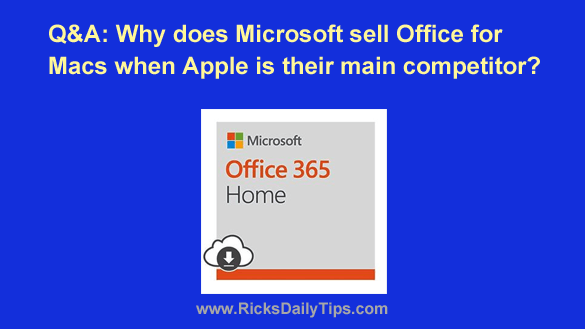 Note: The links in this post are affiliate links.
Question from Claude:  I was looking at the various options for buying Microsoft Office on Amazon the other day and I saw they're selling Microsoft Office that runs on Macs.
That really surprised me since Microsoft and Apple are direct competitors of each other.
Why do they make a Mac version of Office when that obviously encourages people who would buy a Windows computer to run MS Office on to buy a Mac instead? 
Rick's answer: That's a great question, Claude. And here's a very simplified answer for you…
Microsoft and Apple aren't really direct competitors at all.
Yes, they both sell computers, and they both sell software that runs on their computers. But the thing is they have almost entirely different target markets.
Most people who prefer using a Mac over a Windows PC have reasons for doing that and they would never consider giving up their Macs and buying Windows machines instead.
Likewise, Windows users have their own reasons for using Windows PCs instead of Macs.
Of course there's a bit of overlap since a relative handful of people use both Macs and Windows machines.
And yes, every now and then a Mac owner will switch gears and buy a Windows machine next time around (and vice versa). But in the grand scheme of things, most Mac users will remain Mac users forever and most Windows users will never own a Mac.
Truth be told, Microsoft's decision to sell Mac versions of MS Office actually benefits both companies.
Microsoft benefits by selling Office to Mac users because it greatly expands the potential market for that highly profitable software.
Apple benefits as well because Mac owners can use the world's most popular Office software without having to ditch their Macs and replace them with Windows machines.
As you can see, it's a true win-win situation.
Bottom line: While Microsoft and Apple might squabble at times (and even sue one another over an occasional dispute), the fact that Microsoft Office is available for Mac users greatly benefits both companies.
Bonus tip: As you have already discovered, if you ever decide to become a rebel and buy a Mac you'll find plenty of options for installing Microsoft Office on it over at Amazon.


---