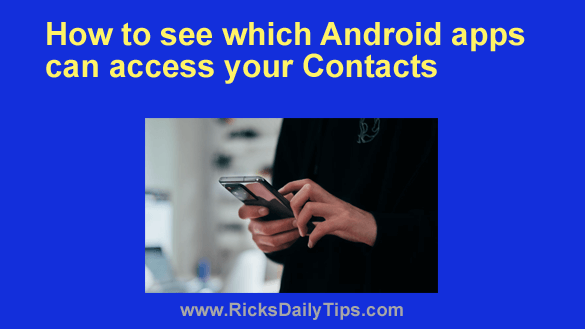 If you have a smartphone or tablet, you're probably aware that the apps on your device have permission to access certain features and caches of info that are present on the device.
While it's true that you have the option to revoke most any permission that an app might claim for itself, do you actually take the time to review your apps' permissions and revoke the ones the apps really don't need in order to perform their stated functions?
If you're like most folks, the answer is probably no. 
Well today I'm going to discuss one permission that very few apps actually need, but far too many of them grant to themselves anyway…
The Contacts info that you have stored on your device could well include some pretty sensitive stuff, not the least of which is your contacts' names, phone numbers and email addresses.
It's pretty much a given that your smartphone's phone dialer and messaging apps need to have access to your Contacts. And so do your social media apps if you want them to be able to use the info stored in  your Contacts to grow your account's list of friends, connections or followers.
But other than those, the number of apps that truly need access to your Contacts ranges from zero to just a very few, depending on the types of apps you have installed on your device and what you use them for.
If you're wondering what an app can do with your device's Contacts info, the answer is plenty.
As just one example, it could collect all of your contacts' names, phone numbers and email addresses and add them to a scam caller's list or SPAM email list – neither of which would work out well for your friends, family members and the other folks listed in your Contacts.
You can easily find out exactly which apps have access to your Android device's Contacts info and then revoke that access for any apps that don't really need it. This video shows how, step-by-step…
Note: You can watch this video at full screen by clicking the little "square" icon in the lower-right corner of the video after it begins playing.
If you prefer following written instructions, here you go:
1 – Tap the Settings icon (it looks like a "gear").
2 – Tap Privacy.
3 – Tap Permission manager. You should now see a list of the different permissions that apps can grant to themselves by default.
4 – Tap Contacts.
You should now see a list of all the apps that are currently installed on your device, divided into two groups: Allowed (these apps have access to your Contacts) and Denied (these apps do not have access to your Contacts).
5 – Carefully consider every app that currently has access to your Contacts to determine whether they actually need that access. You should then tap on every app that doesn't need access to your Contacts and select Deny to revoke that access.
That's all there is to revoking Contacts access for the apps that don't really need it.
Now you have the option of tapping the Back button (the left-facing arrow) and doing the same thing for the other permissions you see listed there.
A good place to start would be Location. After all, does your favorite web browser app really need access to your location? I would say no unless you access a Maps type of website or some other site that has a legitimate need to know where you are at any given time.
And finally, here's something else to consider…
Do the benefits provided by an app really outweigh the privacy hit you'll take from all the permissions it will grant to itself? If not, it might be best to simply refrain from installing that app.
If you do believe an app is worthy of being installed on your device, I recommend that you immediately go into your device's Settings as detailed above and revoke any and all permissions for that app that aren't really needed in order for the app to perform its intended function.
---