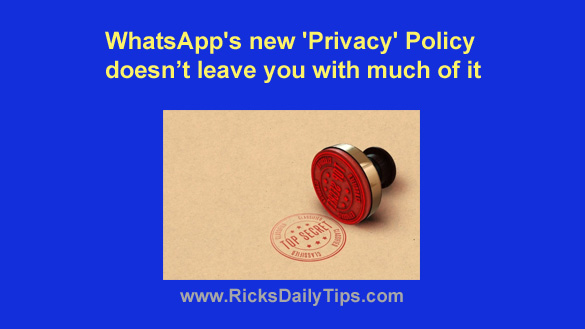 Do you use Facebook's ultra-popular WhatsApp messaging app?
If so, you probably know how they're always boasting about how well they protect the privacy of their users.
In fact, their previous Privacy Policy page displayed the following statement right near the top of the page:
"Respect for your privacy is coded into our DNA. Since we started WhatsApp, we've aspired to build our Services with a set of strong privacy principles in mind."
Gives one a warm, fuzzy feeling, right?
Well, WhatsApp just updated their Privacy Policy and the statement I quoted above is nowhere to be found on their new Privacy Policy page.
However, they did add a few new statements, which combined seem to absolutely shred your privacy in a number of ways.
First of all, on February 8, 2021 WhatsApp will begin sharing your information with Facebook and the other companies that are owned by Facebook.
The shared data will be used for a number of listed purposes, including advertising and various forms of cross-promotion.
Here's a list of just some of the data WhatsApp collects, and will begin sharing on February 8:
User phone numbers
Other people's phone numbers stored in address books
Profile names
Profile pictures
Status message including when a user was last online
Diagnostic data collected from app logs
And that's just the info listed on WhatsApp's Privacy Policy page.
In case you're wondering, #2 in the list above includes EVERYONE on your phone's Contacts List, even the ones that don't use WhatsApp themselves.
But wait, there's more…
According to the WhatsApp download page in the Apple App Store, they already collect and use all of the following info:
Purchases
Financial information
Location
Contacts
User content
Identifiers
Usage data
Diagnostics
If you're a current WhatsApp user you'll be receiving a notification from WhatsApp asking you to read and agree to the new Privacy Policy before the February 8 deadline.
The notice you'll receive should look something like this: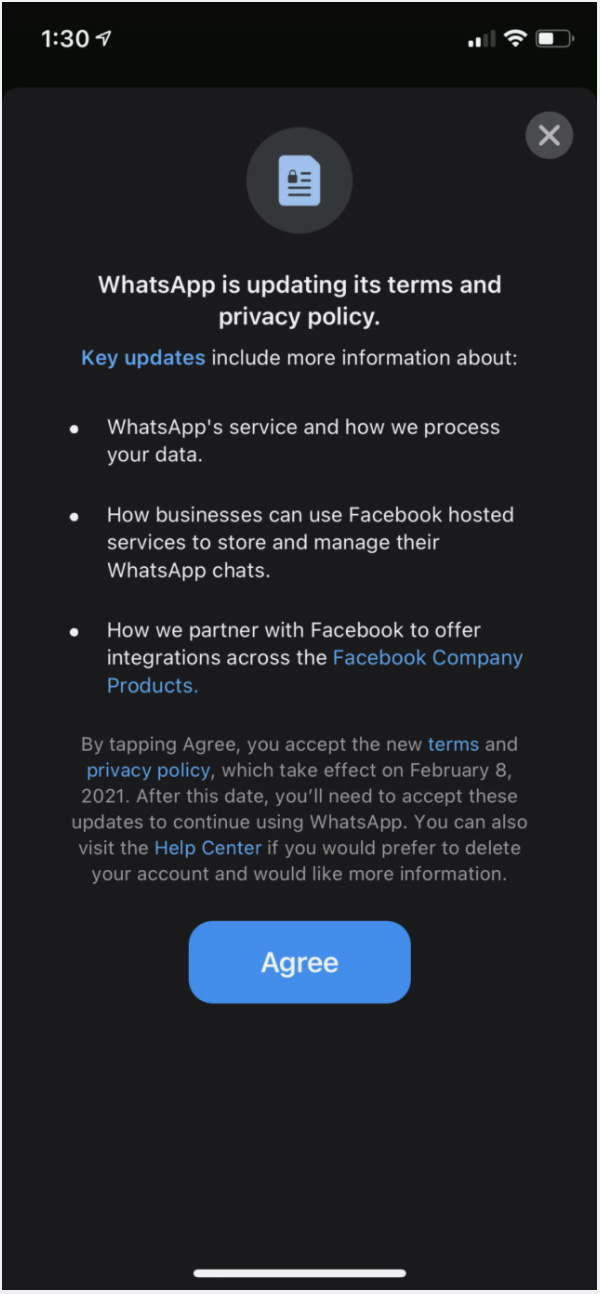 If you don't click the "Agree" button before February 8, 2021 your WhatsApp app will stop working and you'll need to first delete your WhatsApp account and then uninstall the app from your device.
Bottom line: If you value your privacy you really need to read WhatsApp's new Privacy Policy and decide whether you can live with the changes they are making.
---
Never miss a tip!  Click here to sign up for my free Daily Tech Tips Email Newsletter!