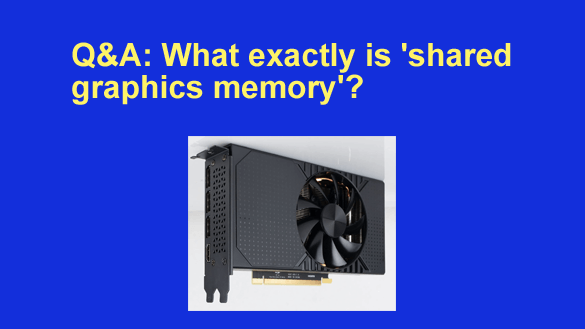 Note: The links in this post are affiliate links.
Question from Melvin:  I need to buy a new computer because my 6 year old desktop has started giving me all kinds of problems.
I want to buy a machine that'll last for several years and I've always had good luck with buying the more expensive Dells.
I've been looking at the Dell desktops on Amazon and this one caught my attention.
I'm fairly computer savvy but this line in the computer's description confuses me: 
Intel UHD Graphics 730 with shared graphics Memory
I'm unfamiliar with the term "shared graphics memory". What exactly is that, and what are they sharing it with? Can you clear this up for me?
Rick's answer:  I'll do my very best, Melvin. Let's start here…
There are two common types of graphics RAM (i.e. graphics memory):
1 – Dedicated Graphics RAM (aka Dedicated Video RAM) is a bank of special RAM chips that are optimized for use with a computer's GPU (the graphics chip that drives the computer's monitor(s).
These dedicated RAM chips are mounted onto a discrete video card that plugs into your computer's motherboard via an expansion slot.
Dedicated graphics RAM chips serve one purpose, and one purpose only: to store video information for the GPU to process as needed before it's sent out to your computer's monitor(s) for display – hence the term dedicated graphics RAM.
2 – Shared Graphics RAM (aka Shared Video RAM)is actually a portion of your computer's regular system RAM that's available for use by the machine's GPU.
This shared portion of system RAM can be used by the PC's CPU just like all the rest of the RAM that's installed on the motherboard. However, if the GPU needs some or all of that RAM, the CPU will free it up and allow the GPU to use it.
In other words, shared graphics RAM is shared between the CPU and the GPU as needed – hence the term shared graphics RAM.
While shared graphics RAM is most often used by an integrated video adapter (the GPU and supporting circuitry are built into the motherboard), it can also be used to augment the dedicated graphics RAM on a discrete video card if all of that dedicated video RAM is maxed out.
If you're wondering which is better, there are definite advantages to using a discrete graphics card whenever possible:
Both overall system performance and graphics performance will be enhanced if you use a discrete video card.
You'll have more system RAM available for running programs and apps if the CPU doesn't have to share a portion of it with an integrated GPU.
But guess what? For most users it won't really matter whether your system uses an integrated GPU and shared graphics RAM or a discrete video card with its own dedicated graphics RAM.
Most modern computers are plenty fast enough to perform just fine when doing everyday computing tasks like web browsing, checking email, visiting websites, perusing social media, watching streaming video and such.
Truth be told, unless you're heavily into photo or video editing, serious gaming or some other resource-intensive tasks, you should get along quite well with a system that has an integrated CPU and uses shared graphics RAM.
And by the way, the Dell system you're considering is a veritable beast for its price range, especially if you'll only be performing typical everyday tasks like the ones I mentioned above.
---