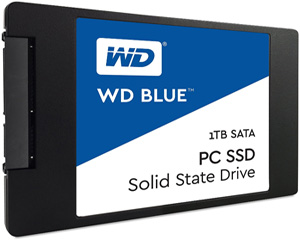 Western Digital has been making outstanding hard drives for decades, and now they have released their very first line of WD branded solid state drives (SSDs). (#ad)
WD has actually sold SSDs under different brand names for some time now, but I believe the release of these new WD branded SSDs shows how confident they are in their SSD technology. 
Western Digital's hard drives have long been considered to be among the most reliable drives in the industry, and my own personal experience with them has been quite positive. When given a choice of brands, I almost always choose a WD drive over the other brands that are available for about the same price.
Time will tell whether the new Western Digital SSDs live up to the reputation earned by the company's hard drives, but I have no doubt that they will.
As of this writing, the current offerings consist of just a few 'WD Blue" SSDs, but lower priced "WD Green" drives will arrive shortly. In fact, the "Green" drives might already be out by the time you read this.
Click here (#ad) to check out Western Digital's current line of WD branded solid state drives at Amazon.