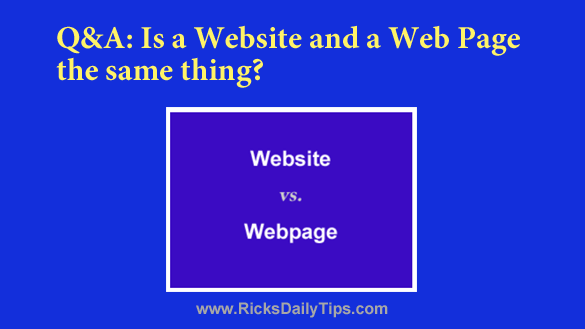 Click here to sign up for my free Rick's Tech Tips Newsletter!
---
Question from Martina:  I have an Internet question for you, Rick.
I keep hearing the terms "website" and "web page" and I find them a little confusing. Is there a difference between the two or do they both mean the same thing?
Rick's answer:  Martina, the terms "website" and "web page" are closely related but they in fact refer to two very different things. Some people use them interchangeably, but they really shouldn't.
Here's the scoop… 
A web page is a single "page" of information that's located at a specific URL on a web server. A website is a collection of web pages that fall under a common domain name.
To use a simple analogy, a web page is similar to a single page in a book. You can open a book to any specific page and read that page independently of all the other pages that are contained within that book.
A website on the other hand is similar to an entire book. This is because a website is a collection all the web pages that are contained within it.
A typical website will have all of its associated web pages accessible via the same domain name, but each individual page will be located at its own individual URL within that domain.
Just as you can pick up a book and open it to any page and start reading that page, you can visit a specific page on a website without having to visit the home page first.
Here are just a few of the ways you could end up with a web page displayed in your browser:
1 – By selecting a search result on your favorite search engine
2 – By clicking a link to the page on another website
3 – By typing the URL of the page directly into your browser's address bar
4 – By clicking on an online ad
5 – By taking one of a thousand other possible actions that result in you viewing the page in your browser
Lets take this website as an example (a blog is actually nothing more than a special type of website). The URL for the home page of this website is:
https://www.ricksdailytips.com
The ricksdailytips.com part of the URL is the actual domain name, and every page on this blog will have ricksdailytips.com in the root section of the URL.
The following URLs refer to individual web pages contained within the RicksDailyTips.com website:
Pretty simple, right?
I hope this clears it up for you Martina. Good luck!
Update from Martina:  That helped a lot, Rick. Thanks.
---
Click here to ask me a tech question.