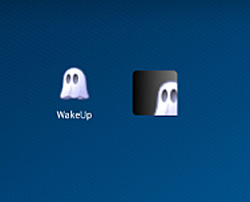 If you're like me, you usually only pick up your phone when you actually want to use it, and having to press the power button to turn on the screen every time can be a bit irritating.
A few days ago I heard about a nifty free app called WakeUp that causes your Android phone's screen to come on automatically whenever you pick up the phone and hold it at the correct angle. After using it for a while I can say that it has quickly become one of my favorites! 
Using WakeUp is easy. Simply install the free version from the Google Play Store, then watch your phone "wake up" automatically every time you pick it up and tilt it back towards you. But don't worry, this doesn't compromise your phone's security since you'll still be required to enter your password in order to use the phone.
As a bonus, WakeUp also turns the screen off for you whenever you lay the phone back down.
Note: There is a commercial (paid) version of WakeUp available as well, but the version I have been testing is the free one. I like it and really see no need to pay for the commercial version.
The major advantage of the paid version of WakeUp is that you can have the app load automatically every time you turn your phone on. With the free version you'll have to activate the app manually every time your phone boots up. But that's very easy to do. Here's how:
1 – After you install WakeUp on your phone, drag the "Ghost" icon onto your Home screen. (You will only need to complete this step once.)
2 – Every time your phone finishes booting up, tap the "Ghost" icon, then tap the red Lock Screen Now button.
To install WakeUp on your phone, visit the Play Store and search for wakeup cb56.