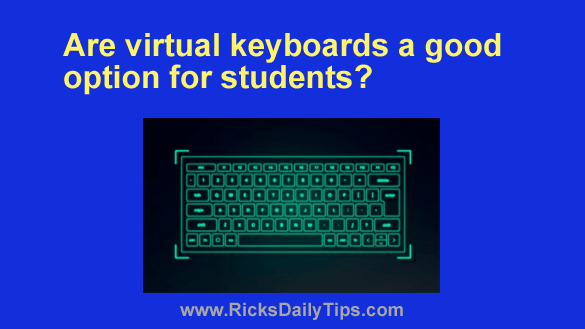 In simple terms, a virtual keyboard is an on-screen keyboard that is used with a mouse. With virtual keyboards, the keys are pressed by pointing to a key on the screen and clicking the mouse.
We are used to virtual keyboards on our phones and tablets. However, they are not always convenient for students, especially when it comes to writing essays or doing other work. 
Why are standard virtual keyboards not suitable for students?
Virtual keyboards are integrated into the devices, and as such, there is no need to carry around another keyboard. Using a virtual keyboard can also help students protect their computers from malicious software, as well as provide students with a secure and efficient way to input information. It can also prevent students from inadvertently clicking on malicious links or downloading viruses.
However, apart from these two aspects, virtual keyboards don't have much to offer to students. Here are a couple of the shortcomings of traditional virtual keyboards:
1 – Inconvenience
Virtual keyboards can be inconvenient to use, as they can be difficult to type on and take more time than traditional keyboards. If you are relying entirely on virtual keyboards, you might end up taking a lot of time to write an essay.
For instance, you will have to close the virtual keyboard every time you want to browse the screen and relaunch it again to type. According to Jacob, a professional essay consultant from a reputable paper writing service, virtual keyboards can hinder the productivity of students. This will demotivate them from doing their writing assignments, and students might end up procrastinating.
2 – Lack of Tactile Feedback
Virtual keyboards do not provide the same tactile feedback as traditional keyboards, making it more difficult to type quickly and accurately. This can be a challenge for many students who are making a move from physical keyboards to virtual keyboards.
Projection Virtual Keyboards
If carrying around a manual keyboard is an issue, students can consider a virtual projection keyboard. A virtual projection keyboard is a full-size virtual keyboard projected and touched on any surface. It uses sensor technology and artificial intelligence to let users work on any flat surface as if it were a keyboard.
You will have to take a small projector with you in order to use this virtual keyboard. Nevertheless, it comes with several improvements:
1 – Increased Typing Speed
Projection keyboards allow users to type faster than software virtual keyboards. This increases typing speed and accuracy. As students, you will appreciate this aspect when writing essay papers and working alongside top paper writing services to meet a fast-approaching deadline. It might take you some time to get used to the lack of tactile feedback, but you will still be able to type swiftly and efficiently.
2 –Compact size
Projection keyboards are very small in size and can be carried around easily. This makes them ideal for those students. You need not have a physical keyboard with you to take notes in class or while working in the library.
3 – Cost-effectiveness
Projection keyboards are more affordable than traditional keyboards. If you are on a tight budget, you can buy a tablet and a projection keyboard rather than opting for a laptop and thus save a few bucks.
4 – Versatility
Projection keyboards can be used on any flat surface and at any angle. This makes them ideal for use in various situations. Some virtual laser keyboards can even project the keyboard image into the air to allow control without a flat surface. Moreover, as the keyboard is of standard size, it is much faster to use – when compared to traditional virtual keyboards.
5 – Customization options
Projection keyboards can be customized to fit the user's needs. This allows users to choose the size, color, and features of the keyboard, to match their requirements to boost productivity.
6 – Ergonomic design
When compared to standard virtual keyboards, projection keyboards are designed to be comfortable and user-friendly. As we noted above, students can choose a model that projects the preferred size of the keyboard. This reduces the risk of developing typing-related injuries.
How to choose the right virtual keyboard
As with any other product, virtual projection keyboards also come in all shapes and sizes. Here are some factors that students should consider to ensure that they buy a virtual keyboard that best suits their requirements:
1 – Determine Your Needs
Before you start shopping for a virtual keyboard, take some time to figure out exactly what you need it for. Are you looking for a keyboard to use in your dorm room, or do you need something more portable to take with you when you go to classes?
2 – Consider Your Budget
Once you know what you need your keyboard for, you can start to narrow down what you can afford. Virtual keyboards come in a range of prices, so make sure you're comfortable with the amount you're willing to spend.
3 – Check the Features
Different keyboards offer different features. Consider the number of keys and the type of switch used. Some keyboards may offer additional features such as backlighting, anti-ghosting, and macro keys.
4 – Compatibility
Virtual keyboards may not be compatible with all devices and operating systems, making them difficult to use on some devices. Therefore, you should choose a model that can be connected to your chosen device.
5 – Durability and Maintenance
Look for projectors that are made of high-quality materials and have a long lifespan. Check the warranty to determine the reliability of the product.
6 – Read Reviews
Once you've narrowed down your selection, read some reviews to get a better idea of what the keyboard can do and what other people think of it. This can be a great way to get a better understanding of the features and sound quality before you make your purchase.
So, are virtual keyboards a good option for students?
Overall, virtual projection keyboards seem like a better choice for students who seek an alternative to physical keyboards. They offer the same advantages as physical keyboards, along with the added convenience of portability.
As such, projection virtual keyboards can help students improve their typing speed, accuracy, and overall typing proficiency.
---