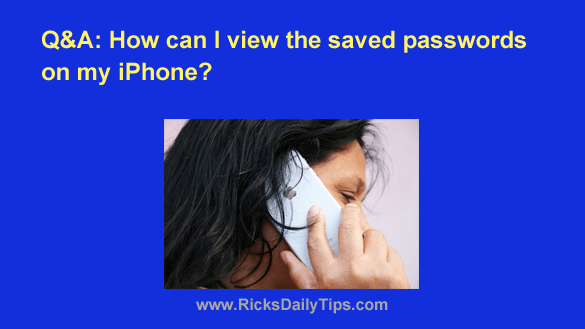 Question from Ronnie:  I have a question about Safari on my iPhone.
I have an account with an online service (I'd rather not say what it is) that I've been accessing for over a year with my iPhone.
I just bought a new laptop and I want to start accessing that website on it instead of my iPhone.
The problem is I can't remember the password because Safari has been automatically filling it in for me.
Is there any way I can view that stored password in Safari so I can use it to log into the account on my laptop? Any help you can provide will be greatly appreciated.
Rick's answer: You're in luck, Ronnie. Apple has made it very easy to view stored passwords on iOS devices. Just follow the steps below and you'll have your password in hand in no time:
1 – Tap the Settings icon to launch the "Settings" app.
2 – Passwords.
3 – Sign in when prompted to do so.
4 – Tap on the name of the website/online service that you wish to retrieve the password for.
That's all there is to it. The login name and password for the account in question should now be displayed on the screen.
Update from Ronnie:  Thanks, Rick. That worked great and now I'm able to use that account on the laptop. I really appreciate your help.
Bonus tip: While using stored passwords on your iPhone is relatively safe (as long you have the device's security locked down tight), allowing your device to store your passwords is a very bad idea. This post explains why.
---