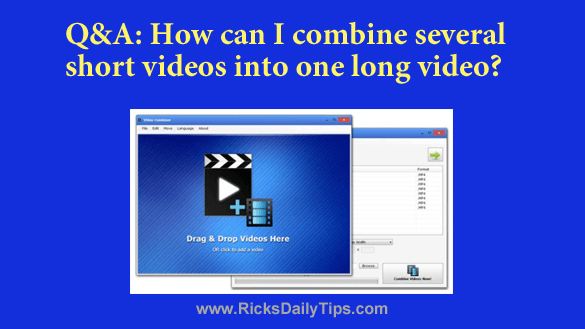 Question from Tina:  Our church hosted a gospel music festival this past weekend and I videoed the performances of eight groups, each of which sang several songs each.
There was a considerable gap between the performances so I stopped recording after each group had finished singing their last song.
That left me with eight relatively short videos instead of just long one.
How can I combine all of those short videos to make one long video? 
Rick's answer: This is a common issue Tina, and luckily there's a very simple solution.
You can use a fantastic free program called Video Combiner to create one video file that contains all the performances.
What's more, you'll even be able to arrange the order of the performances into the order of your choosing.
Just follow the steps below to create your awesome multi-group music video:
1 – Download Video Combiner from Oldergeeks.com and run it.
2 – Press the Windows+E key combination to open a "File Explorer" window.
3 – Navigate to the first video file that you want to include in the single large video and drag it onto the Video Combiner window and drop it there (release the mouse button).
Note: You should now see that video's filename displayed inside the window.
4 – Drag each of the other videos you wish to include onto the Video Combiner window.
5 – Use the green Up Arrow and Down Arrow buttons to move the videos into the desired order. (The video at the top will be played first.)
6 – (Optional) – The default format for the output video is MP4. That should be fine for most applications but you can select a different video format if you want to.
7 – After you've added all the short videos and selected the order in which they should be played, click the Combine Videos Now button to create the one large video.
Video Combiner will now get busy creating the new video. Be aware that this will take some time to complete (up to an hour or more depending on the length of the individual videos).
That's all there is to it. After you've completed all the steps listed above you should end up with one large video that contains all the shorter videos that you chose to include in the finished product.
I hope this helps, Tina. Good luck!
Update from Tina:  Thanks, Rick. It worked perfectly!
---