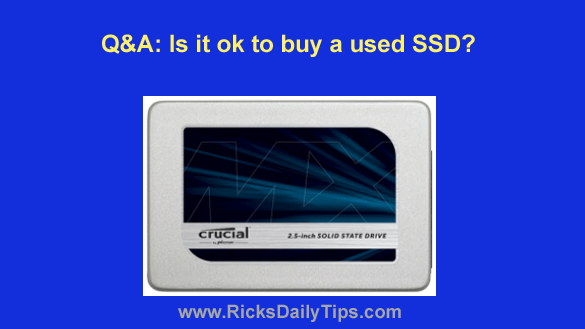 Note: The links in this post are affiliate links.
Question from Stephen:  I've been wanting to buy an SSD for my laptop for a while now, but the high prices for SSDs have been holding me back.
I was checking on eBay last night and saw where a guy is selling used Crucial MX500 512GB 2.5″ SSDs for just $40 each.
What's your opinion on used solid state drives? Do you think I should buy one? 
Rick's answer: Stephen, installing an SSD as the boot drive in your laptop is probably the best upgrade you can make.
But that being said, I really think you should pass up this deal and buy a new SSD
instead.
There are several reasons why I don't recommend buying a used solid state drive:
1 – Unlike traditional spinning hard drives, SSDs can only be written to a limited number of times, and every write action uses up a portion of an SSD's useful life.
And since you have no way of knowing how many times a used drive has already been written to, you have no way of knowing how many write cycles it has left.
2- Even though a used SSD might appear to be working fine, it could contain non-working memory cells – a condition that tends to get worse in hurry once an SSD starts to fail.
3 – In today's market, $40 for a used 500GB SSD isn't really a bargain at all. In fact, you can buy a brand new Crucial 500GB SSD at Amazon for just a few bucks more.
What's more, if you're not too particular about the brand, you can add a few bucks to that $40 and get a brand new 1TB SSD instead.
Bottom line: I wouldn't recommend buying a used SSD at any price, but even if I did I'd recommend checking on the current prices of new SSDs first. After all, SSD prices have dropped considerably and they're now quite affordable compared to times past.
---