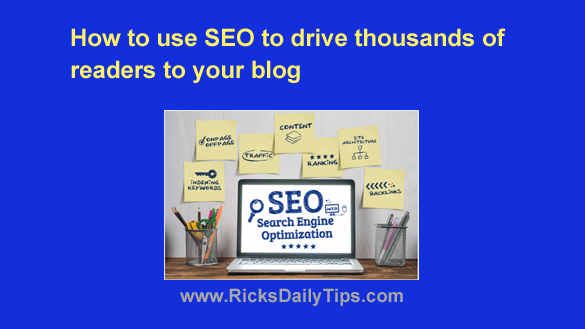 Note: This is a guest post. If you want to guest post on this blog, click here to check out the guidelines.
In this post, SEO enthusiast Aisha Preece explains exactly what SEO is and how you can use it to drive thousands of visitors to your blog. 
---

SEO or Search Engine Optimization is a topic that is often over-complicated and misunderstood.
If you get SEO right, your blog can receive thousands of free passive traffic to your blog for years.
However, if you get it wrong, you run the risk of having to rely on paid ads or more active (and time consuming) traffic streams like social media to drive traffic to your online business.
My personal finance site gets over 87,000 readers to my site every month from Google.
This means Google sends readers my way whether or not I am active on Facebook and Instagram.
This traffic provides me with valuable advertising and affiliate income which helps bring me closer to my goal of financial independence and early retirement.
Before we begin, let's understand the basics…


What is SEO and How Does It Work?
SEO stands for Search Engine Optimization.
Essentially, SEO involves:
finding a good keyword and
optimizing your articles, product pages or websites to ensure it gets on the first page of google.
Gaining backlinks from high authority sites
Google is a huge search engine and it's set up to answer people's questions and show them what they are looking for. If your article/ product is on the first page of google, then you are going to get more traffic and more sales.
Some experts estimate that articles on the first page of Google get 71% of the search traffic.
That's a BIG slice of the organic traffic pie!


What Is The Objective Of SEO?
To keep it simple, the objective of SEO is to get on the first page of Google. The reason for this is, NO ONE clicks on the 5th page of Google.


There are several benefits of SEO Traffic:
1 – Better buyer intent compared to social media
SEO traffic naturally leads to more sales compared to social media traffic because the user has specifically Googled a search term looking for a solution, as opposed to stumbling across your article while scrolling through Instagram watching cat memes.
For example, someone who googles 'best shoes for hiking' is more likely to buy the hiking shoes that you recommend when they read your article.
But someone scrolling on Facebook who sees your article on 'best hiking shoes' may not necessarily be interested in hiking or want to buy hiking shoes.
Note: If you are curious about all the ways blogs make money, you can have a look at this post on how to make money blogging for beginners.
2 – It can be more private (you don't have to post on social media).
SEO traffic targets user search queries on the big wide net, mostly all of these will be queries from strangers.
This is quite liberating because it means you don't need to constantly post on social media and bombard the news feeds of friends and family to get traffic to your blog.
Confession: I run a niche site my family and friends know nothing about. It receives lots of traffic from strangers all around the world and I have never shared it on social media.
3 – It's more passive. You set and forget it, then just update it every 6-8 months.
You constantly hear about Pinterest, Instagram and FB algorithm changes and the need to continually post to keep up with the algorithm.
Google does have algorithm updates but it is less frequent than social media updates and doesn't require you to get on the social media hamster wheel of continuous posting.
I still receive thousands of traffic from a post I wrote three years ago. I just update it every year to ensure the content is fresh and relevant.
And now, the downsides Of SEO Traffic:
1 – It takes longer to get traction.
SEO traffic requires patience, and lots of it.
If your blog is new, it takes at least six months for Google to acknowledge you.
Furthermore, when you publish a new article, it could take between 4-6 months for it to start getting some traction.
Note: It's possible to get traction sooner with backlinks and if you are a high authority site. More on that later.
2 – SEO articles take more work.
Google cares about getting the best content to its users. This means it will rank articles that are comprehensive and truly answer a users search query.
Naturally, this means the articles written need to be more in depth and involve a higher word count.
As an example, I have articles ranking on Pinterest with 800 words but ALL of my articles ranking on page 1 of Google are over 1,500 words.
On-Page SEO vs Off-Page SEO
There are two parts to the SEO puzzle, and you need to work on both for SEO to succeed.
The most commonly used and most understood is On-Page SEO. Nevertheless, it's equally important to understand and implement good Off-Page SEO practices too.
According to expert SEO website Moz.com:
On Page SEO is 'the practice of optimizing individual web pages in order to rank higher and earn more relevant traffic in search engines.'
Off-Page SEO 'refers to actions taken outside of your own website to impact your rankings within search engine results pages (SERPs).'
On Page SEO
Practically, On Page SEO is:
finding a good keyword and
putting it in the right places
What Is A 'Good SEO Keyword'?
The essence of good On-Page SEO is having a GOOD KEYWORD. A good keyword is one that has HIGH search volume, but LOW competition.
This means many users are searching for the query but not many well established high authority websites are writing about it.


How Do You Find A Good SEO Keyword?
There are plenty of free and paid keyword research tools out there. Here are a few examples:
Keywords Everywhere – $10 for 10k searches
Many people want to know exact numbers but I can honestly say, after taking more than five different SEO courses and running four different sites, everyone says something different as each online business is different.
But as a general rule, I target keywords with:
Search volume of more than 70 AND
A competition score is less than 30
I use the reasonably priced tool Keysearch which does all the work for you. You simply input the search term and it spits out the search volume and competition score.

So if we look at the search term 'hiking in canada', that would be a bad SEO keyword for a new site because the competition score is 39 (top right).
The volume score looks good as it's more than 70 (bottom left). Nevertheless, a new site probably wouldn't be able to rank for this search term because the competition is too high (more than 30).

But if we dig a bit deeper, we can find the search query 'hike quebec'. The volume is 720 which exceeds our requirement of 50 and the competition is less than 30!
I would target this keyword and write an article about 'Hiking in Quebec', as it gets decent search traffic and not a lot of big high authority sites are writing about the topic!


To recap, On-Page SEO is about:
finding a good keyword
putting it in all the right places in the article
All the right places to put the keyword are in the:
Title H1
Subheading H2
First 100 words in article/ product description
Sprinkled throughout the post at least 4 times
URL
Image file name
Alt text
Meta Description
Yoast SEO is a great FREE plugin you can use that guides you on all the right places to put the keyword. Here is an example of what will come up when you use it.
If you have placed the keyword in all the right places , the smiley face goes green and you can swing your shirt over your head like a lasso.
Note: You don't need to get the paid version. The FREE version works just fine.
Here's a screenshot that shows Yoast SEO in action:
Ok now we are On-Page SEO experts!
Does this mean we can now change our Linkedin profiles to 'SEO Ninjas' and dish out SEO advice no one has asked for?
NOPE! You also need to learn about Off Page SEO.
So this is about a few of the things we can do to establish our authority in the eyes of google and increase our domain, so we can rank faster and easier for search terms.


What Is Domain Authority (DA)?
According to MOZ.com, 'Domain Authority (DA) is a search engine ranking score developed by Moz that predicts how likely a website is to rank on search engine result pages (SERPs). A Domain Authority score ranges from one to 100, with higher scores corresponding to a greater ability to rank.'
You can check the DA of your site (and other sites) by downloading the Moz.com Chrome extension.
You can increase your domain authority by getting backlinks from high authority sites. Meaning high domain sites link back to your site from their website.
Here are some ways you can get backlinks to your site.


Warning: Don't Try And Trick Google!
Note of Caution: DO NOT get tempted to buy links from marketplaces like Fiverr. This is called 'black hat link building tactics', and they are bad news.
This may work in the short term but in the long run, Google catches up and will know you are trying to game the system. They will blacklist you and it will be game over, for your online business.
Google is all knowing, my friends. Don't try and trick their algorithm!
In business we need to be honest, and the same approach goes for building links for your online business. Don't take shortcuts using sketchy methods.
Use the tips mentioned in the article above and it will take longer but will be better (and safer) for your site in the long run.
OK so there we have it, an essential guide to SEO.
If you're like me, you learn better when someone gives you exact steps, so I have outlined them below…


Step-by-step plan to implement SEO in your blog RIGHT NOW:
1- Check DA on MOZ.com.
2- Find high search volume low, competition keywords.
3- Write an in depth blog post and input the keyword in strategic places.
4- Start building backlinks from high authority sites.
5- Repeat.
I hope that clears up all the SEO mystery. If you have any further questions, I would love to hear from you!
---
About the author…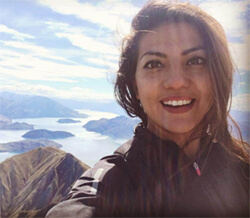 Aisha Preece ditched her corporate job in search of a career that allowed her to work remotely.
She now LOVES Mondays and is passionate about helping others make and save more money, so they can live life on their terms.
Check out Outandbeyond.com for unique money tips, and to learn about all the best location independent jobs you can earn from.
Alternatively, follow her on Instagram to learn how to work remotely but please excuse her questionable dancing and fat cat, Sandy.