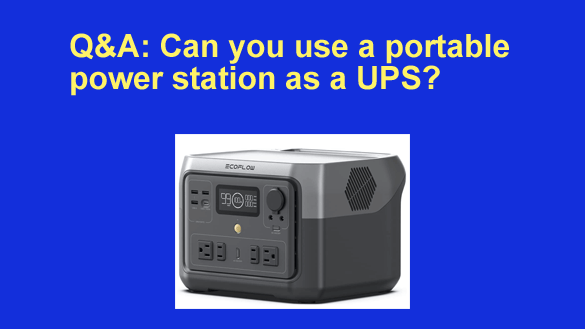 Note: The links in this post are affiliate links.
Question from Roland:  I'm hoping you can answer some questions for me about portable power stations.
The power went off on my street and stayed off for over 7 hours. My almost new 1,000 watt UPS only kept my computer and monitor running for about an hour.
My cousin (who is also my neighbor) has a 500 watt Jackery portable power station and he said it kept his computer running for over 5 hours, and his computer has a bigger monitor.
Like I said before, I have three questions: 
1 – Do portable power stations always keep stuff running a lot longer than a UPS?
2 – If so, can you use a portable power station in place of a UPS?
3 – If you can use a portable power station as a UPS, can you recommend a good one?
I love the thought of being able to keep my computer running for several hours when the power is out.
Rick's answer:  Roland, the answer to your first question is yes. A portable power station will indeed keep the gear plugged into it powered up and running longer than a consumer-grade UPS with a comparable wattage rating.
The reason why is because those devices are designed and built to perform different tasks.

First, let's talk about UPS devices…
Note: Although UPS devices and Battery Backup devices are actually two different types of devices, for the purpose of this post they can be considered to be the same.
The purpose of a UPS device isn't to keep gear running for extended periods of time. They are actually designed to serve as an always-ready short-term backup power source that keeps your computer gear powered up long enough for you to save any open files and perform a normal (i.e. safe) shutdown procedure when the power goes out.
When plugged into an electrical outlet, a UPS uses a function called Battery Bypass to feed power directly from the outlet to the computer (or whatever device is plugged into it). In other words, the power coming in from the grid bypasses the battery completely to directly power the load device(s).
If the power from the grid gets interrupted for some reason, the UPS quickly switches from grid power to battery power. And when I say quickly, I'm talking thousandths of a second. It happens so fast that your computer or other load device(s) don't even notice it.
The downside is the battery inside a typical UPS or battery backup device will run down fairly quickly because it wasn't designed to maintain a long-term charge.

Now, let's discuss portable power stations…
Unlike a UPS, a portable power station is designed to provide power for an extended period of time. Most of the good ones use the same types of lithium batteries that are commonly used in off-grid solar power systems.
These batteries tend to drain slowly and evenly, providing much longer run times than the ones used in UPS devices.
But unlike USP devices, many portable power stations don't have a Battery Bypass feature. Even when the power station is plugged into an electrical outlet the load device (your computer, for example) is still drawing its power from the power station's battery. And at the same time, grid power is recharging the power station's battery.
This virtually constant state of charging and discharging puts stress on the power station's battery, greatly reducing its useful lifespan.

Next, I'll answer your second question…
You asked if a portable power station can be used in place of a UPS. Well, the answer depends on the capabilities of the power station you're planning to use.
Like I said above, many portable power stations don't have the Battery Bypass feature that's essential for using a power station in place of a UPS. But guess what? Some of them do!
You didn't mention a budget, but you need to be aware that any portable power station that comes equipped with Battery Bypass capability is going to cost a lot more than what you'd pay for a UPS or battery backup device with the same wattage rating.

And finally, here are my recommendations…
There are several portable power stations on the market that would make excellent extended-time UPS devices, but I'll just mention a couple of my favorites.
Note: Both of the power stations mentioned below can be charged with either grid power, a generator or solar power (by adding a compatible solar panel that is available as an option for both devices).
This awesome device comes with a 512Wh lithium battery. At the current time it's selling for less than $500 on Amazon (but that could change at any time).
The River 2 Max is roughly comparable to your cousin's 518Wh Jackery 500 in terms of battery capacity.
2 – KODIAK X2
If you want to double that battery capacity, the amazing Kodiak X2 comes with a 1280Wh LiFePO4 battery.
Of course it also costs over twice as much as you would pay for the EcoFlow River 2 Max, so which one you choose will likely depend on your budget.
Well, that's about it, Roland. I hope I have adequately answered your questions. I wish you great luck regardless of which device you choose to go with (if any).
Update from Roland:  Thanks for detailed explanation, Rick. I haven't decided what to do yet, but if I decide to get a portable power station it'll probably be the EcoFlow as it's closer to the amount I had in mind to spend.
---