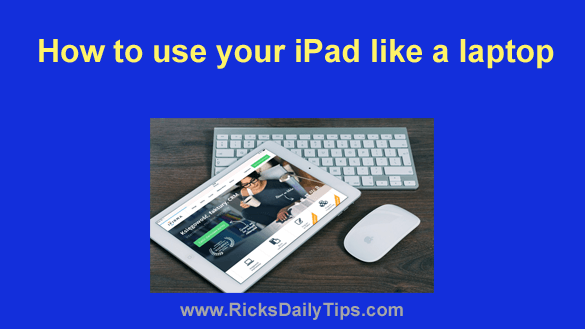 Note: The links in this post are affiliate links.
It's no secret that Apple's iPad line of tablets have amazing touch screens and quite functional virtual onscreen keyboards.
However, it's also no secret that most people find it much easier to type using a full screen physical keyboard and "tapping" doesn't give you the same level of control you can get with a mouse.
For most typical "tablet" tasks the iPad's virtual keyboard and touch screen work just fine, but if you do a lot of typing and/or image manipulation you might be better off attaching a physical keyboard and mouse to your iPad so you can use it like a laptop. 
Luckily, this is very easy to do thanks to the wonders of Bluetooth technology.
All you need to do is get yourself a Bluetooth keyboard and Bluetooth mouse and then pair them up with the tablet.
Although virtually any Bluetooth-enabled keyboard will work with your iPad, you'll likely be more satisfied with an Apple Magic Keyboard since it's actually designed to work with Apple products.
While you could also use a genuine Apple Magic Mouse, I recommend going with the much cheaper Macally Wireless Bluetooth Mouse instead.
This excellent mouse works flawlessly with both Macs and iPads and it only costs about what you'd expect to pay for a pizza.
Once you have your keyboard and mouse in hand, just follow the instructions that came with the devices to pair them up with your iPad.
If you end up needing them you'll also find generic pairing instructions on Apple's website.
And finally, although you can get by without one, you'll probably find it's a lot easier to use your iPad as a laptop if it's supported by a tablet stand.
Bottom line:  If you only use your iPad for perusing Facebook, surfing the Internet and sending an occasional short email, the device's touch screen and virtual keyboard are probably all you'll ever need.
However, if you do a lot of typing or image manipulation, you can greatly enhance your productivity and user experience by adding a physical keyboard and mouse so you use your iPad like a laptop.
---