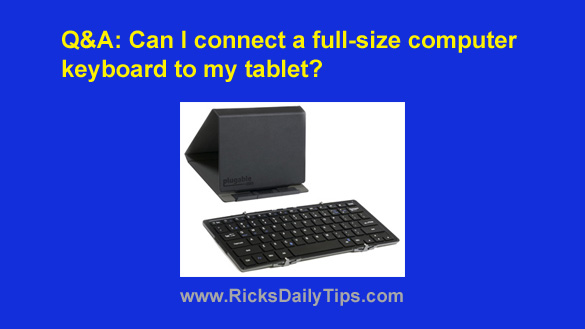 Note: The links in this post are affiliate links.
Question from Danica:  Rick, I recently purchased a 10″ Android tablet and I really like it.
It came with a keyboard cover but the keys on it are way too small for me to type without making lots of mistakes.
Is it possible to use a regular full-sized USB computer keyboard with a tablet? 
If it is, how do I connect the two of them together?
Thanks in advance for your help.
Rick's answer:  Danica, you might well be able to use a full size PC keyboard with your tablet with the help of an adapter plug, but I have a much better solution that I'd like to recommend.
Instead of using a standard USB keyboard, I believe you would be much better off with a full size Bluetooth keyboard that's designed from the ground up to work with Bluetooth-enabled devices.
For example, the fantastic Plugable Full-Size Bluetooth Folding Keyboard would connect easily to your tablet via Bluetooth just like the keyboard that came with your tablet, allowing you to touch-type just as easily as if you were using a laptop or desktop computer.
While the keyboard itself is slightly smaller than a standard size keyboard, the keys themselves and the spacing between them are standard size.
This keyboard's high-capacity Lithium-Ion battery will last for weeks and is easily recharged by plugging the keyboard into any standard USB charger or a USB port on a computer.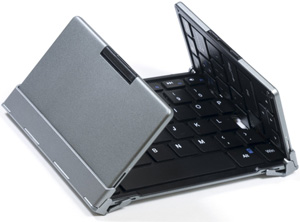 You can easily carry this keyboard along with you when you travel because it folds up to a size that's smaller than a paperback book.
It even includes a handy carrying case that doubles as a stand for your tablet when you're using your tablet and keyboard.
Another plus for this keyboard is it's made by Plugable, an industry leader in third-party add-on tech products. And by the way, it also comes with a 1 year warranty.
If all that isn't enough to convince you, this awesome keyboard will also work perfectly with your IOS and Android devices. It even works with a Mac!
Of course there are other full-size Bluetooth keyboards out there to choose from, but I really like and recommend this one from Plugable.
Here's a photo that shows everything you get in the package: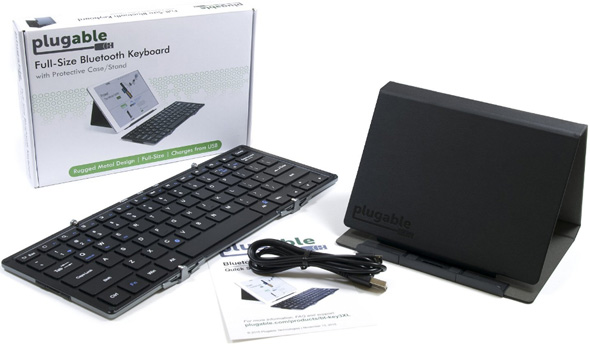 Bottom line: While you might well be able to use a standard USB keyboard with your tablet, I honestly believe you would be better served by using a full-size Bluetooth keyboard instead.
Click here to read more about the Plugable Full-Size Bluetooth Folding Keyboard at Amazon.
---