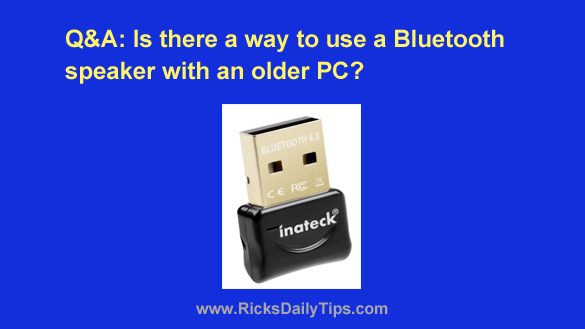 Click here to sign up for my free Rick's Tech Tips Newsletter!
---
Note: The links in this post are affiliate links.
Question from Cody P:  Hi Rick. I won a really nice Bluetooth speaker in a contest (it's almost $100 online). I'd like to use it with my desktop computer but it doesn't have Bluetooth.
Is there an easy and cheap way to connect a Bluetooth speaker to my computer? For example, maybe by adding a Bluetooth adapter card to my PC?
Rick's answer:  You might not have to use your speaker over a Bluetooth connection at all Cody. (Great prize by the way!)
If it has an auxiliary input jack you can probably simply plug it into your computer's audio output jack and use it just like you would use any other speaker. That being said, if the speaker can only connect via Bluetooth you'll indeed have to attach some type of Bluetooth adapter to your computer.
Since you didn't mention the brand and model number of your computer I can't really give you any advice on choosing a Bluetooth card that will work with it. But even if I could I would still recommend that you buy an inexpensive USB Bluetooth adapter
.
Going the USB route is the simplest and fastest way to add Bluetooth to most any PC. Just plug the dongle into an open USB port and install the driver and you are done!
You can choose from several different brands and models of USB Bluetooth adapters at your local electronics retailer, or you can buy one from Amazon and likely save some cash.
I hope this helps Cody. Good luck.
Bonus tip: This post explains how to add super-fast USB 3.0 ports to an older computer that only supports USB 2.0.
---
Cick here to ask me a tech question.