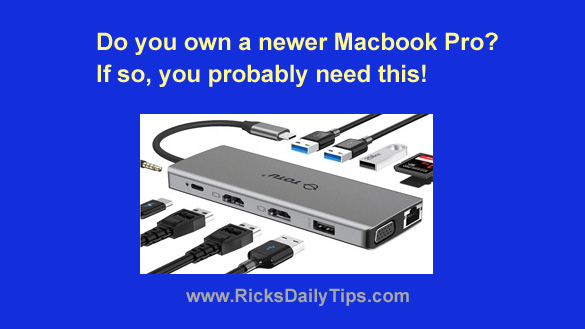 Note: The links in this post are affiliate links.
Do you own a newer MacBook or other device that has just a single USB-C type USB port? If so, I have a recommendation for you.
This awesome USB-C Hub Multiport Adapter will add two USB 3.0 ports, two USB 2.0 ports and a plethora of other useful ports to your MacBook or other USB-C device!
This awesome adapter will allow you to use your existing USB peripherals such a USB mouse, an external USB hard drive, a USB flash drive or pretty much anything else with your MacBook. In fact, you can use up to four standard USB devices at the same time!
But this hub goes far beyond just USB. It also provides a 4K USB C to 2 HDMI port, a VGA port, a Micro SD & TF card reader, a Mic/Audio port and a wired Ethernet port.
Apple has definitely adopted a "less is more" attitude when it comes to ports, but you don't have to settle for a single USB-C port that's incompatible with your existing USB peripherals. Simply plug this adapter into your MacBook and then use it to connect your favorite devices.
Click here to read more about the USB-C Hub Multiport Adapter Hub at Amazon.
---