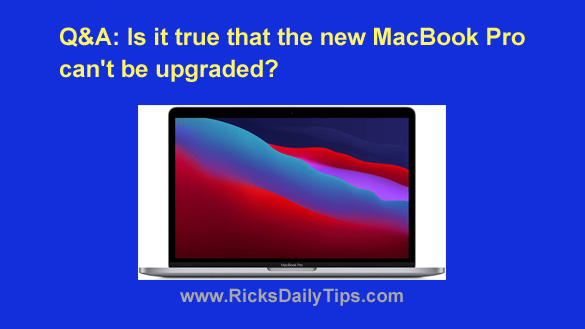 Question from Damon G:  My old MacBook Pro has been in dire need of being replaced for some time now so I've really been looking forward to the release of the newest model.
The thing is I've heard that the new MacBook Pro won't be upgradeable. Is that really the case?
I love my Apple devices but I'm not too keen on laying out buku dollars for a machine that can never be upgraded when the times comes that it needs it (and it always does).
Rick's answer:  I'm afraid you heard correctly, Damon. Apple's newest edition of the MacBook Pro is indeed incapable of being upgraded in any meaningful way.
And that doesn't just apply to the MacBook Pro. It also applies to both the new MacBook Air and the new Mac Mini.
Why? Because Apple has decided to power those machines with their M1 chip that packs the CPU, GPU, RAM and most other internal components inside a single sealed package.
Apple refers to this new mega-chip as their "custom System-on-a-Chip (SoC) hardware".
Unfortunately, they decided to solder the M1 chip directly onto the device's mainboard, which of course makes replacing it with a faster and more capable model (or one with more RAM) at a later date pretty much impossible.
And then there's the solid state storage (SSD) that's also soldered directly to the mainboard, which renders the storage capacity non-upgradable as well.
The good news is these new M1 powered machines are faster than their earlier counter-parts so you'd likely have a great user experience should you decide to go ahead and purchase one.
The problem is there's no way to know how long that great user experience would last since new operating system and app releases could well require more RAM and storage capacity than the versions that are in use today.
As the Mac line goes, the base models of these new M1 powered machines are actually quite affordable.
However, if you want to double the RAM from 8GB to 16GB it'll set you back a whopping $200 extra (i.e. add $200 to the base price).
If you ever decide that you want more than 16GB you're simply out of luck because that's the max you can get in one of these machines.
Bumping the SSD storage from 256GB to 500GB will set you back another $200.
You can also opt for 1TB of storage for an additional $400 or 2TB for an additional $600.
Yes, you read those amounts correctly. If you want more than 256GB of storage space the upgrade will literally cost you the price of an entire entry-level Windows laptop!
And here's the thing: If you want the RAM upgrade and/or one of the SSD upgrades you MUST choose that option at the point of purchase. There is no upgrading the machine once you have purchased it.
Please understand that I didn't tell you all of that to discourage you from buying the new MacBook Pro that you've been wanting for so long. It really is a great machine at a decent price (by Apple standards).
But if you really want a machine that can be expanded and upgraded at a later time you'd definitely be wise to skip these new Macs and purchase something else.
Update from Damon: Well I guess that settles it. It looks like I'll be buying my first ever Windows laptop.
Like I said, I love my Apple machines but I just can't see putting that much cash into a computer that can never be upgraded.
Thanks for the info.
---
Never miss a tip!  Click here to sign up for my free Daily Tech Tips Email Newsletter!