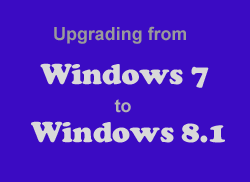 Many Windows 7 users decided to skip the upgrade to Windows 8 because of all the stories they heard about how horrid Windows 8 is, and I can't say I blame them.
But now that Microsoft has fixed many of Windows 8's most irritating problems and annoyances with the release of Windows 8.1, many of those same users would now like to upgrade. Perhaps you're one of them. 
But there is a problem. When upgrading from Windows 7 to Windows 8.1, there is no option to keep your installed apps or system settings intact as there is when upgrading from Win 8 to Win 8.1. Sure, your user-created data files will remain, but you'll have to re-install every one of your applications and re-tweak Windows to behave the way you want it to. In my opinion, that's absolutely ridiculous, but that's the way it is nonetheless.
Luckily, there is a way to effectively upgrade from Windows 7 to Windows 8.1 without having to reinstall anything at all. How? By buying the upgrade package for Windows 8 instead of Windows 8.1. Here's how it works:
1 – Buy and install a Windows 8 upgrade package (either online or from your favorite local retail outlet).
2 – Once you have installed the Windows 8 upgrade, upgrade again from Windows 8 to Windows 8.1 (download the upgrade from the Windows Store).
The Windows 8.1 upgrade will be free after you have Windows 8 installed, and all of your programs and data files will carry forward through both upgrade procedures. Just be sure to back up all of your irreplaceable data files before you begin since two upgrade procedures means two opportunities for something to go wrong.