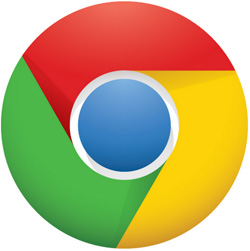 Google has just released an important security update for their popular Chrome web browser, and I recommend that you install it right away.
This update patches a total of nine different security bugs, some of which are classified as high risk.
As you probably know, Chrome is currently the most popular browser in use today, and that makes it a big target for hackers.
That's why it's important to always make sure the latest security updates are installed as quickly as possible.
Follow the steps below to update Chrome to the latest (and most secure) version: 
1 – Click the Menu icon located in the top-right corner of the Chrome Window (it looks like three horizontal lines stacked atop one another).
2 – Select Help from the drop-down menu.
3 – Click About Google Chrome. The "About" page will open and Chrome will check to see if an update is available.
4 – If the latest update hasn't been installed yet, click the button to update it immediately.
That's all there is to it. Your Chrome installation should now be up to date and all the known security holes patched.
If you like this post you can get my latest tips in my weekly RicksDailyTips Email Newsletter. Sign up for free at the bottom of this page!