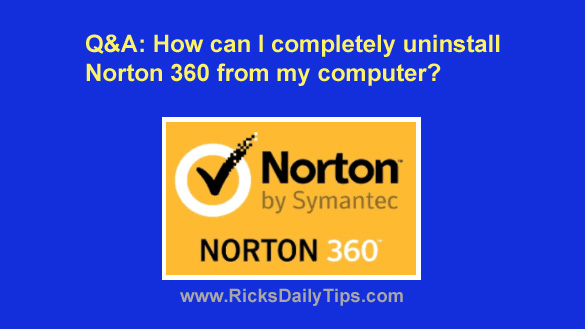 Question from Dagan F.:  Hi Rick. I've been using Norton 360 for years, but it has let a bunch of viruses slip through and get installed on my computer.
I read in one of your blog posts that you recommend Avast Free Antivirus, and I really want to ditch Norton and install Avast because my computer has lots of viruses on it.
Norton will remove a bunch of viruses every time I run it but they just keep coming right back.
The thing is I'm having a problem getting Norton 360 uninstalled so that I can install Avast. The Windows thingy that uninstalls programs got rid of some of the Norton files but some of them come right back when I reboot the computer.
How can I completely uninstall ALL the Norton files from my hard drive?
Rick's answer:  Dagan, it sounds like the viruses on your PC might have corrupted your Norton 360 installation, making it virtually impossible for the native Windows "Uninstall a program" utility to properly remove it.
Luckily, the folks at Semantec (the company that sells Norton antivirus products) have a great free tool just for handling situations like this. It's called Norton Removal Tool, and it does exactly that (and it does it quite well).
Download the Norton Removal Tool from this page and give it a try. I've never seen it fail to completely wipe out am installation of supported Norton software.
I hope this helps, Dagan. Good luck!
Update from Dagan:  The removal tool did get rid of Norton 360 and I was able to install Avast with no problems. Thanks a TON for your help!!
---
Never miss a tip!  Click here to sign up for my free Daily Tech Tips Email Newsletter!