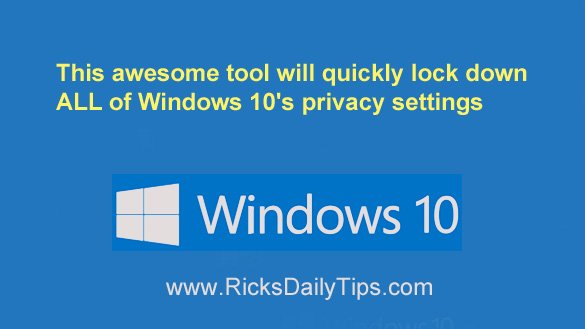 As you probably know by now, Windows 10 is a nightmare when it comes to privacy.
Truth be told, if you accept all of Windows 10's default privacy settings you won't have much privacy at all while you're using your PC.
There are almost two dozen important privacy settings that need to be changed in order to lock down your privacy as much as possible, but unfortunately they're scattered all over the place throughout your Windows 10 installation. 
That makes it very difficult and time-consuming to make all those tweaks, and the task can be virtually impossible if you don't know where to find all of them!
Luckily, an awesome free tool called Ultimate Windows Tweaker makes it very easy to change ALL of Windows 10's important privacy settings at one time.
All you have to do is run the program, check the boxes and then click "Apply Tweaks".
Sound good? Here are step-by-step instructions for downloading Ultimate Windows Tweaker and using it to completely lock down all of Windows 10's important privacy settings:
1 – Click here to visit the Ultimate Windows Tweaker download page at OlderGeeks.
2 – Scroll down and click on the huge green Download Now link.
3 – Copy the downloaded zipped folder to the Windows Desktop.
4 – Right-click on the zipped UWT4.zip folder, then click Extract All.
5 – Click Extract. You should now see an unzipped folder named UWT4 on your Desktop.
6 – Delete the zipped UWT4.zip folder (you won't be needing it again).
7 – Double-click on the UWT4 folder to open it.
8 – Double-click on UWT4.
9 – Double-click on Ultimate Windows Tweaker 4.7.1.
10 – Double-click on Ultimate Windows Tweaker 4.7.1.exe.
11 – Click Yes in response to the "User Account Control" dialog. The Ultimate Windows Tweaker tool should now be open on your screen.
12 – (Optional, but strongly recommended) – Click the Create Restore Point button and create a System Restore Point. (Important: You'll need to enable System Restore for the C: drive if it isn't already enabled.)
Having a recent Restore Point on hand will make it possible to roll back these changes in the unlikely event that something were to go wrong. This tool works well and I believe it to be completely safe, but things happen, you know? Just sayin'.
13 – Click the Security and Privacy link in the left-hand pane.
14 – Select the Privacy tab.
15 – Check the box for every privacy setting that you wish to enable (I checked every box on the page in case you're wondering).
16 – Click the Apply Tweaks button.
17 – Restart your PC to enable all the selected tweaks.
That's all there is to it. Your Windows 10 privacy settings should now be locked down as tight as they possibly can be!
Bonus tip: If you haven't done so already, I recommend that you take this opportunity to create a System Image Backup of your computer's hard drive or SDD.
---