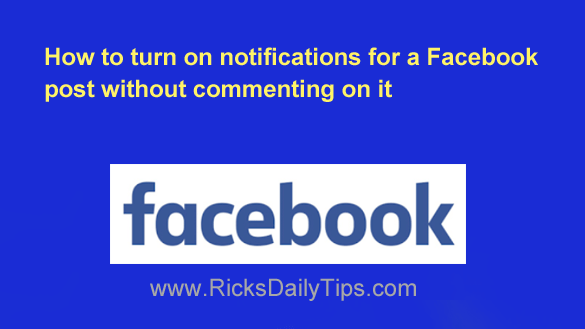 Do you ever see posts on Facebook that you'd rather not comment on but you'd still like to read the comments that others leave on it?
Well, as luck would have it, there's an easy way to turn on notifications for a post so you can "follow" it and keep up with the comments folks leave on it without having to leave a comment of your own.
All you have to do is click (or tap) the the three dots located in the top-right corner of the post field, then select Turn on notifications for this post from the drop-down menu.
That's all there is to it. From now on you'll receive a notification every time someone comments on this post, even if you declined to leave a comment yourself.
If you change your mind and want to stop receiving notifications for a post you can simply repeat the steps listed above and turn off notifications for it.
And by the way, you can use the same drop-down menu option to turn off notifications for any post, even if you have commented on it yourself.
By the way, this is just one of the many handy tips and tools you'll find if you spend a few minutes combing through the various menus on Facebook.
---