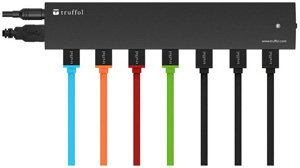 Now that virtually all new external USB hard drives and USB flash drives can connect at blazing USB 3.0 speeds, a quality USB 3.0 hub is now pretty much a necessity.
And if you own an ultrabook or other small device that has just a single USB 3.0 port, it's virtually impossible to get along without one.
And since we all seem to have multiple mobile devices these days, we also need a handy way to keep them all charged up and ready for use.
In an effort to simplify things and keep my desk from becoming cluttered with a dozen boxes of various types, I've been on the lookout for a high-quality USB 3.0 hub and charger combo unit. Well, I recently found exactly what I've been looking for, and more. 
The Truffol Station 7 Aluminum Desktop USB 3.0 Hub and Charger is a true masterpiece in terms of both design and function.
This attractive, well constructed hub/charger has four high-speed USB 3.0 data ports, each of which can double as a charger for your low-powered mobile devices such as smart phones, digital cameras, and such.
All four of the USB 3.0 data ports are powered by an included 36 watt power adapter, which means you can attach devices such as older external USB hard drives that tend to draw more power than any non-powered USB hub can provide.
In addition to the four high-speed USB 3.0 data ports, there are also three high-power USB charging ports capable of supplying up to 2.4 amps each to their connected devices. In total, this awesome device can charge seven USB devices simultaneously while providing a whopping total of 9.2 amps.
All seven ports are equipped with built-in surge protection as well as smart circuitry that automatically provides exactly the amount of charging current required to fully and safely charge the devices that are connected to them.
I love the space -saving design of this USB hub/charger combo unit. It's slimline shape and rugged, black aluminum case will help keep your desk clutter-free without sacrificing either capacity or quality. Check out this photo: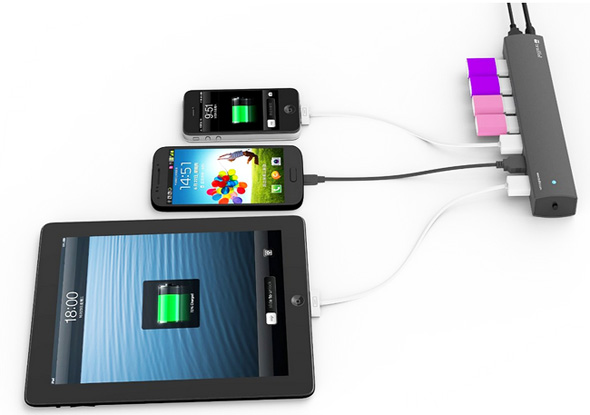 Bottom line: If you need both a powered USB hub and a multi-port desk charger (and who doesn't), I don't believe you could possible go wrong with this little jewel from Truffol.