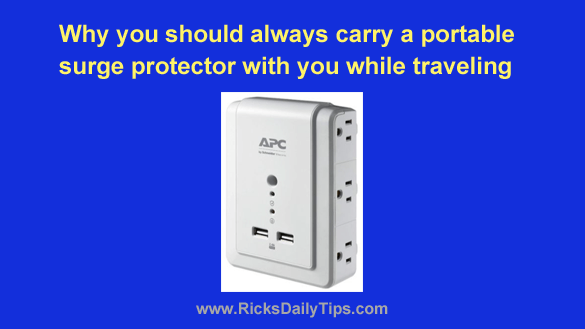 Note: The links in this post are affiliate links.
If you're a frequent traveler you're probably well aware of just how scarce electrical outlets can be at airports and hotel rooms.
With all the gadgets we need to power and keep charged up these days, available outlets tend to get snapped up pretty quickly.
And of course there's also the danger of using public USB charging stations.
Luckily, there's on very simple and very effective way to avoid both of these problems at the same time… 
Carrying a portable surge protector/USB charger with you when you're traveling makes it easy to turn a single electrical outlet into several outlets while also allowing you to safely charge your phone and other devices.
These things are great, and they are quite inexpensive.
The key is to choose a surge suppressor/USB charger device that's small enough to tuck away into your carry-on bag because it'll be completely useless if it's buried in your checked baggage.
A great choice in my opinion is this little gem from APC.
This awesome device has six surge-protected outlets and two  2.4 amp USB charging ports that you can use to keep all of your devices powered up and charged while also protecting them from power surges.
Here's a photo showing this handy surge protector in use: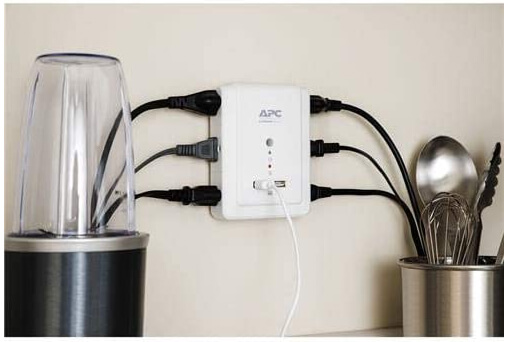 Pretty neat, right?
If you're concerned about quality (and you should be, especially when it comes to surge protectors), this one is simply outstanding.
Bottom line: A small portable surge protector/USB charger won't add much extra weight to your carry-on bag, but it sure will come in handy when you need power up and charge multiple devices.
---