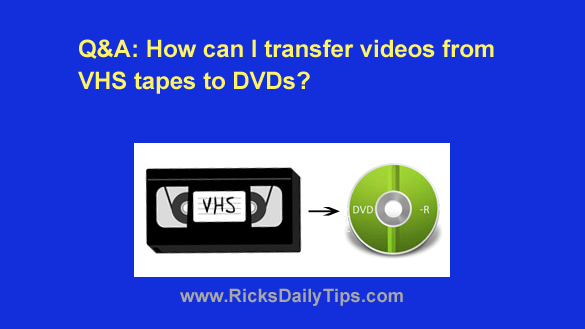 Question from Evelyn:  First off, I really appreciate the service you provide answering people's tech questions, Rick.
I's so kind of you to do that. I hope you'll indulge me with a question of my own.
Sadly, my father passed away a while back, but before he passed he said he wanted me to have two large boxes of VHS tapes containing home videos and family recordings that he had made over the years.
I would really love to transfer the contents of those old VHS tapes to DVDs.
Can you tell me the best way to do that without spending a ton of money? And if possible, it needs to be really simple.
I have a DVD burner in my Windows PC and a working VCR that I can use. Thanks in advance for your help!
Rick's answer:  I'm very sorry to hear of your father's passing, Evelyn. These things are never easy to deal with and my heart goes out to you.
To answer your question, you have three options available to you. All of the options are fairly simple so I'll list them in order from cheapest to most expensive…
1 – Buy a VHS to Digital converter. Plug the converter into your VCR or camcorder according to the instructions provided, then plug the converter's output cable into your computer's USB port.
Just play a VHS tape while running the converter's included software to copy the video from the tape onto a blank DVD-R.
2 – Buy a VHS/DVD combo recorder. Simply insert a VHS tape and a blank DVD-R into the recorder, then follow the instructions in the user manual to copy the contents of the tape onto the DVD.
In my opinion, this is your simplest and most convenient option.
3 – Pay a company that specializes in converting VHS to DVD to do it for you. This is by far the simplest way to achieve your goal of copying all of your dad's VHS tapes onto DVDs, but it will also likely be the most expensive considering the number of VHS tapes you're wanting ton convert.
If you decide to go this route you'll find plenty of services to choose from by searching Google for transfer VHS to DVD.
If you'd prefer to deal with someone local, I recommend that you check out Walgreens.
I hope this helps you, Evelyn. Good luck!
---
Never miss a tip!  Click here to sign up for my free Daily Tech Tips Email Newsletter!