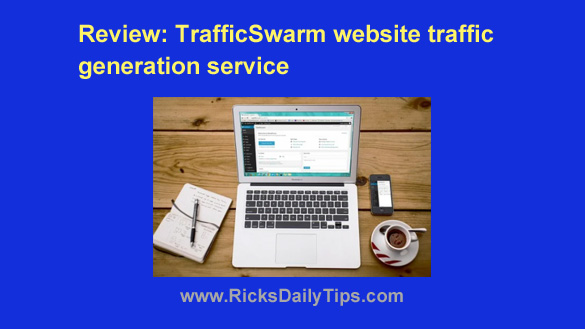 As a blogger, I know how important it is to have lots of people visiting your website.
After all, a site that no one ever visits is pretty much useless, especially if you hope to make money with it.
If your website is new you've probably spent some time searching Google for ways to increase the number of visitors you have coming to it on a daily basis.
And if that's the case, chances are you've come across a service called TrafficSwarm.
In this post I will explain how TrafficSwarm works and give you my honest opinion about whether you should use it or not.
In a nutshell, TrafficSwarm is a "traffic exchange" service.
Website owners sign up and place an "ad" for their website in the TrafficSwarm database. Then they peruse a page filled with ads for other sites, and click on those ads to visit the sites.
Every "visit" to another site earns credits that are redeemed in exchange for your ad being displayed in the list.
TrafficSwarm promises that you can sign up in about 5 minutes and begin receiving a "swarm" of visitors to your site right away.
Well, that is very true. The sign-up process is indeed fast and other TrafficSwarm visitors will begin visiting your website within minutes after you finish signing up.
And, also as promised, if you follow their instructions, your site will receive a LOT of traffic!
But there's a problem…
All of the traffic you'll be getting from TrafficSwarm is useless. Well, actually it's a lot worse than useless, and here's why:
With virtually no exceptions, the people visiting your site are other website owners and bloggers who visit the sites in the TrafficSwarm network just to earn "credits".
The credits earned by visiting other sites within the network are then redeemed in exchange for their ads being displayed to other site owners.
Those folks see your ad on TrafficSwarm, then click the link and visit your site in order to earn more credits.
Recognize the problem here? Although TrafficSwarm can potentially send tons of visitors to your site, those visitors aren't interested in anything you have to offer on your site.
In fact, most of them won't even read anything on the landing page.
And why would they? The time they spend on your website could be better spent (in their view) visiting more websites in order to earn more credits.
In short, the "visitors" that TrafficSwarm sends you aren't really interested in your site at all. They are only interested in generating traffic to their own websites (and understandably so).
Clicking links to earn credits is the name of the TrafficSwarm game.
I'm sure you can now understand why I said the traffic you'll receive from TrafficSwarm is useless. But it's actually worse than useless because it can drag down your site's future search engine rankings!
The algorithms that Google and the other major search engines use to rank web pages in their search results for specific search terms consider a number of different factors when determining which pages deserve to be ranked the highest (and therefore receive most of the search engine traffic).
Two important factors they consider are "Bounce Rate" and "Time Spent on Page".
If a visitor comes to your website and then leaves after just a few seconds without spending any real amount of time reading your content or clicking onto another page on your site, that's considered a "bounce".
In other words, the "visitors" land on your page and then "bounce" right back off in order to seek out another page so they can earn more credits.
The search engines assume that a high bounce rate is the result of a poor quality page, and they rank pages that have high bounce rates lower in their search results for their given search terms.
And as you probably know, low search engine rankings result in very little search engine traffic.
"Time Spent on Page" is closely related to "Bounce Rate". If a page has something useful or interesting on it for the visitor to enjoy, he/she will stick around long enough to read it, and maybe even visit more of the pages on the site.
When the search engines see that visitors tend to bounce back off of a page without taking the time to consume the content, they see that as a huge negative and take that into account when ranking that page in their search results.
The bottom line is this: While TrafficSwarm is a GREAT place for attracting lots of traffic to your website or blog, the traffic you'll receive will do more harm than good in the long run.
You won't make any sales to TrafficSwarm visitors because they have zero interest in your website and anything that you have to offer on it. And even worse, your search engine rankings will almost surely suffer.
My recommendation is to steer clear of TrafficSwarm and promote your website using methods that are more effective and less destructive to its search engine rankings.
Bonus tip: This post explains why you should always maintain complete control of your blog's domain name and content.
---
Never miss a tip!  Click here to sign up for my free Daily Tech Tips Email Newsletter!