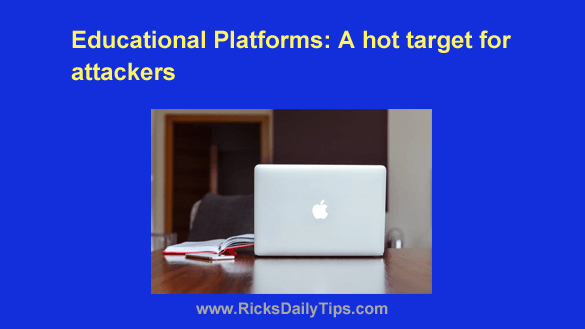 Note: This is a guest post. If you want to guest post on this blog, click here to check out the guidelines.
In this post Renuka Shahane of Scalefusion discusses several threats faced by educational platforms in the age of online learning. 
---
As we move towards online education, the cyber threats of online learning platforms cannot be completely avoided. These portals are easy targets for hackers where they can launch cyber-attacks and malicious campaigns without having the fear of being caught.
The threats of online classes are ignored by so many online portals, but the data available on these platforms is sensitive as a lot of young students just feed their details without contemplating the consequences.
In this article, we would be covering the aspects of how educational platforms are a hot target for attackers and how it affects both the consumer and the educational platform host.
IT administrators and Network Assets
One of the primary reasons behind educational platforms being a soft target is the reckless attitude of IT administrators towards the network assets they use.
A software program or an educational platform needs to go through many patches and updates to mitigate the exposed risk of hackers. The cyber threats of online learning platforms mainly rise from educational institutes that do not take their security seriously and are not aware of potential malicious exploitation.
Here are some of the most common forms of attacks that pose threats to secure online exams and general measures of education:
Database Trading
As educational portals moved towards secure online exams, cyber threats of online learning platforms became even more prevalent during COVID-19.
One of the most common forms of this was through database trading. A lot of online platforms did not pay attention to their databases pre-going digital.
These compromised versions of databases are being sold on various forums and are getting large amounts. People pay for these platforms in the form of cryptocurrencies so there is very little to negligible chance of tracing these back.
While most hackers will sell these to portals that need large databases, sometimes the details of your students or other important stakeholders can be compromised and hence it is quite important to keep the security levels of your website up to the mark.
Domain list offering or domain sale
Another threat that makes educational platforms vulnerable is the sale of a large number of educational domains, in the black market. This narrows down the efforts made by hackers to search for vulnerable systems.
It is very easy for hackers to look for unsecured parts, mirror websites, exploit the weaknesses, and carry out any form of cyber destruction.
Hence, it is important for educational platforms to up their security measures, especially before interacting with students and conducting activities like secure online exams.
A credential leak from platforms
There are a lot of credential leaks for an online educational platform that is surfaced on the deep web. These are captured by different methods such as spyware activity, keylogging, running stealthy programs, etc.
For instance, there are hackers that list out email password combinations compromising the data of the users. These lists typically have passwords listed out in plain text which facilitates attackers to launch a password spray attack on different digital platforms and it can impact a number of users together without extra effort.
But, there are checker programs available for each and every educational platform and you must utilize them to stay safe.
The educational infrastructure put up for sale
For regular members of the Cyber Criminal Black Markets, it is quite easy to find open and vulnerable systems in the academic infrastructure.
It is quite uncommon for the general public or educational portal owners to recognize these potential attacks. These attackers gain access to these systems through different methods such as Open RDP Access, Spear Phishing Emails, Unprotected Elastic Servers, and much more.
It is quite common amongst potential threats of online classes to appear in forms of attacks that are concealed in identity. They prevail backdoor access for more network access, so to sell the same on various marketplaces.
What can you do to make educational platforms safe from a hot target for attackers?
You can make your educational platform safe with the help of the following steps:
1 – You have to ensure that you install security plugins. There are security plug-ins for all hosting platforms. Pick an option that suits you the most and addresses your security vulnerabilities.
Additionally, if you are looking at managing your school / educational devices using MDM Software, then it is crucial you have security plug-ins installed so nothing affects the safety of your educational platform. 
2 – Make sure the educational platform you are using has HTTPS: and there is a lock at the beginning of the URL. As per recent regulations, it's not just the eCommerce websites, but all websites need  to have an SSL. 
3 – As an educational platform host, you need to keep the software up to date and comply with your website platform with all the right security measures. 
4 – Additionally, to speak to your students or to have internal communication with your team, use really safe and secure applications. 
5 – Do not click on pop-up ads and try to switch on a pop-up blocker for safety. 
6 – We recommend feeding details with an OTP verification instead of adding credit card details straightforward to avoid any potential thefts.
With all of the aforementioned measures, you definitely can save your educational platforms from being a hot target for attackers and ensure trust amongst your users.
---
About the Author
Renuka Shahane is a Sr. Content Writer at Scalefusion, an industry-leading MDM solution that helps organizations across the globe to manage their mobile endpoints.
She's an engineering graduate, an Apple junkie, and an avid reader who has 5+ years of experience in content creation, content strategy, and PR for technology and web-based startups.
---
Never miss a tip!  Click here to sign up for my free Daily Tech Tips Email Newsletter!