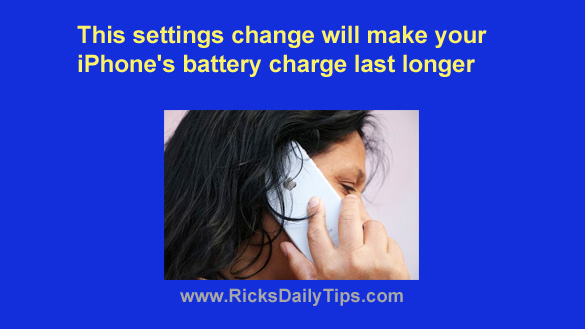 Does it seem like your iPhone's battery has a habit of dying sooner than it should?
There are many variables that determine how quickly an iPhone's battery will drain, some of which are out of your control.
But luckily, there's one battery hog that you can disable with a few taps that could make the difference between your battery lasting the entire day or dying on you at the worst possible moment…
Unless you have already opted out of it (and chances are slim to none that you have), your iPhone collects various types of user data (info about how you use your phone) and then sends that info back to Apple so they can use it to improve their next round of devices.
Apple refers to this data collection and transmission process as "Analytics" in the Settings app, and turning it off on your phone can save a bit of battery juice.
By the way, on top of the battery issue, Analytics also raises an issue about privacy…
Apple says they'll never collect, use or distribute any data from your iPhone that can identify you as an individual, but I tend to take such declarations from tech companies with a grain of salt.
On a technical level they are capable of collecting any data that resides on your phone.
They readily admit to collecting location data (when and where you use your iPhone) and other types of info, so who knows what else they might be collecting without your knowledge or what they might start collecting in the future?
Anyway, back to the topic at hand…
If you'd like to extend your iPhone's battery life and prevent the device from collecting your user info and sending it back to Apple you can do so by following the steps listed below:
1 – Tap the Settings icon.
2 – Scroll down and tap Privacy.
3 – Scroll down and tap Analytics and Improvements.
4 – Toggle the "Share iPhone Analytics" setting to Off (The slider should turn from green to light gray).
That's all there is to it. You have now disabled the battery-hogging and privacy-invading Analytics feature on your iPhone.
But now, I must mention this: One recent study found that Apple still collects data about you from your iPhone even with the "Share iPhone Analytics" setting turned off.
Knowing Apple, it's entirely possible that's true even though other studies have determined that they don't.
Hopefully this simple settings change will make a noticeable a difference in how long your battery charges last from now on and enhance your privacy at least somewhat. As always, your milage may vary.
---