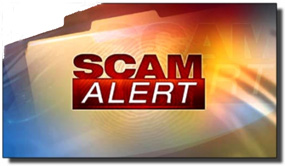 As you surely know by now, scammers and hackers are always working overtime to take advantage of innocent Facebook users.
Unfortunately, scammers are quite active on other social media sites as well.
Right now there's a very dangerous phishing scam being spread via instant messages on Instagram.
As usual, the text of these messages can vary a bit, but they all look something like this one:
"OMG your actually on here, @TheNastyList_39, your number is 15! its really messed up."
If you take the bait and visit the "Nasty List" profile page you'll be presented with a link to sign to Instagram to view the entire list.
If you click that link you'll be taken to a fake, but authentic looking Instagram login page. If you enter your login info on that page the scammers will immediately have your Instagram login information!
Once they have your login info they'll be able to log into your Instagram account and do literally anything with it that you can do yourself.
One thing they'll do for sure is use a bot to send the same fraudulent phishing message to everyone on your "Followers" list to keep the scam spreading as far and wide as possible.
As usual, there are a couple of big honking clues that this is a scam:
1 – The message contains several examples of poor grammar and punctuation.
2 – You're asked to log into your Instagram account even though your are already logged into it (you wouldn't have received the message in the first place if you weren't already logged in).
As you can see, this is a very serious and dangerous scam. That's why I strongly recommend that you avoid interacting with this message in any way. Here are a couple of tips:
1 – If a message similar to the one above arrives in your inbox, delete it without even opening it.
2 – If you happen to open one by mistake, don't visit the "Nasty List" profile page. And whatever you do, don't enter your login info on the fake Instagram login page!
If you've already fallen for this scam, follow the steps below immediately to protect your account:
1 – Change your Instagram password to something that's easy to remember, yet extremely secure. This post explains how.
2 – Follow the instructions on this page to enable Two-Factor Authentication on your account.
Bottom line: This "Nasty List" phishing scam is one of the most dangerous scams facing Instagram users at the moment.
The tips mentioned above can help you avoid falling for it (or mitigate the damage if you already have).
Bonus tip #1: Click here for information on several other scams that are making the rounds right now.
Bonus tip #2: Want to make sure you never miss one of my tips? Click here to join my Rick's Tech Tips Facebook Group.
Not into Facebook? Then click here to join my LinkedIn Tech Tips Group instead!
---
Want to ask Rick a tech question? Click here and send it in!
If you found this post useful, would you mind helping me out by sharing it? Just click one of the handy social media sharing buttons below.