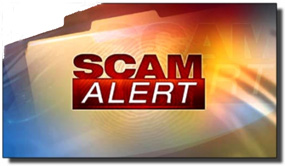 Well, just in time for the Christmas shopping season those familiar "Target 50% Off Store-Wide" coupons have already started popping back up on Facebook.
They usually pop up right before Thanksgiving but they've started making the rounds early this year.
Sounds pretty good, right? After all, who wouldn't like a 50% discount at Target?
The problem is, these coupons aren't real. They're nothing more than a ploy to get you to "Like" their Facebook page and visit a very realistic (but fake) copy of Target's website.
If you take the bait and visit the fake website you'll be asked to log in to your Target account. When you try to log in the scammers will collect your login info and use it to log in to your account on the real Target website and assume control of it.
And to top it all off, the fake website will infect your computer with malware. Not good.
Several of my friends have reported seeing these fake coupons in their newsfeeds, and I've seen a couple of them myself. If you happen to see one DO NOT click on it!
If you've already clicked on one these fake coupons and tried to log in to your Target account, I recommend that you change the password on your account and run a thorough malware scan ASAP.
Scammers, being the crooks they are, absolutely love taking advantage of folks during the holiday season when they know that we know there are plenty of legitimate great deals out there.
They know that our normal defenses are down thanks to the "Black Friday" mentality that seems to hit all of us upside the head right after Thanksgiving, and they take full advantage of it. And I think it's absolutely despicable.
Just always try to remember, if it sounds too good to be true, it probably is – even during Black Friday and throughout the entire Christmas shopping season.
Bonus tip #1: Click here to read about some of the other scams that are making the rounds right now.
Bonus tip #2: Want to make sure you never miss one of my tips? Click here to join my Rick's Tech Tips Facebook Group!
If Facebook isn't your cup of tea, I invite you to sign up for my Rick's Daily Tips Daily Update Newsletter.
---
Want to ask Rick a tech question? Click here and send it in!
If you found this post useful, would you mind helping me out by sharing it? Just click one of the handy social media sharing buttons below.