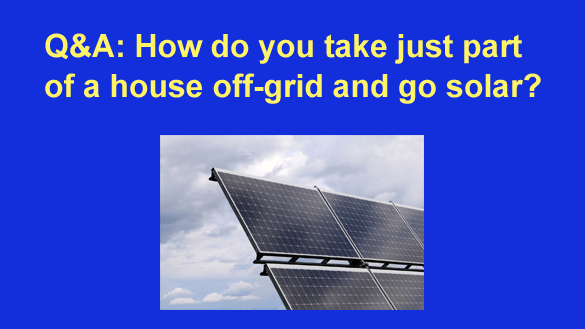 Note: The links in this post are affiliate links.
Question from Keith:  I just finished reading your post about taking your home office off-grid and I found it very encouraging because I'd love to that for just a couple of rooms in my own house.
My question is how do you take just part of a house off-grid while leaving the rest of it connected to the power line? I always just assumed that was an all-or-nothing thing.
I love the idea of being able to keep my TV, refrigerator and freezer powered up during power outages without having to fool with a generator.
I wouldn't have to be concerned about powering our heat pump because we have a wood burning stove that does a great job at heating the essential areas of our house. We also have my wife's grandmother's wood burning cook stove in the kitchen (and we actually use it on occasion).
If I can ask a second question, what are the advantages of going only partial-solar instead of taking the entire home off the grid? My wife says it's more practical to go all the way with it if you're going to do it at all, but I'm really concerned about the cost.
Rick's answer:  Those are great questions, Keith. I really like your idea and I'd love to have you report back with an update after you've been using solar for a while (if you ultimately decide to go that route).
I'll be happy to answer your questions, starting with the second one.
There are several advantages to taking just part of a home off the power grid and switching it to solar power instead of converting the entire home:
1 – Cost
Full-blown off-grid solar power systems don't come cheap. In fact, the total cost of purchasing the equipment for a whole-house solar setup and paying a solar pro to install it could well be north of $10,000 – and that's the low end of the scale.
But depending on the size of your home and your family's power needs, it could easily be several times that amount.
Of course you can always do some research into designing and building out a solar power installation and do the work yourself to avoid the expense of hiring a pro to install it. The thing is, you'd still be looking at an investment approaching (and most likely exceeding five figures).
By comparison, a small system that's designed to power just a TV, a fridge, a freezer and a few low-power LED lights would only set you back a couple of thousand dollars.
2 – Simplicity
A full-blown whole-house solar power setup would require the installation of a large array of solar panels and all the associated components needed to convert the sun's rays into electric power, store that collected power and then deliver it to all the devices in your home.
Once all the equipment was installed you'd need to disconnect your home from the power grid and connect your solar equipment to your home's breaker panel.
If you decide to take just a couple of rooms off grid, all you need are a few relatively inexpensive solar panels, an MPPT charge controller, a DC to AC power inverter, a battery bank and the miscellaneous cables, connectors and other hardware items you'll need to install them.
You wouldn't have to touch the breaker panel at all because you could simply run a couple of new 12/3 wires from the inverter to the rooms you'd be taking off-grid and install outlets for the devices you need to run.
You wouldn't really need to rewire the existing lights because you could simply plug lamps and/or other LED light fixtures into the outlets you installed to power the other devices.
3 – Speed of installation
As you probably surmised from reading numbers 1 and 2 above, a small two-room solar conversion could be completed much faster than a whole-house solar installation. In most cases we're talking days instead of weeks, or even months.
Now that we have the advantages of taking just a couple of rooms off-grid, I'll answer your question about how to do it.
I actually covered the basics in the Simplicity section above, but I'll expand on it just a bit here.
First, you'll need to find out how much power (in watts) that each of the devices you plan to power via solar consumes. The easiest ways to find the wattage requirements of your devices is to either look at the labels on them or use one of these handy gadgets.
Note: Don't forget to include the lights and device chargers that you plan to use.
Once you have all the wattage numbers, plug them into the handy calculator on this page and then click the orange Calculate My System Size button to get your total power requirement (in Watt Hours per day).
You can now take the info you've gathered and use it to determine how many solar panels and batteries you need to buy (depending on the capacities of the particular panels and batteries you choose to go with).
You can also use that info to size your power inverter and solar charge controller (the device that uses the power generated by the solar panels to charge the batteries).
I could go into detail about how to size the various components of your solar setup based upon the numbers you now have in hand, but I believe you'd be better served by watching a short video by Will Prowse, a young man who is widely considered to be the ultimate authority on all things solar.
FYI: Will's YouTube channel has dozens of outstanding videos that explain every aspect of designing and building a solar power installation.
Note: You can watch this video at full screen by clicking the little "square" icon in the lower-right corner of the video after it begins playing.
Once you've determined which equipment you need to buy in order to meet your power needs, just install it (using Will's videos as guides) and then run your 12/3 wires from the inverter to the rooms where you need the outlets.
I hope this helps, Keith. Solar power isn't really all that complicated. Now you know the basics of taking just one or two rooms in your house off-grid and going solar!
---