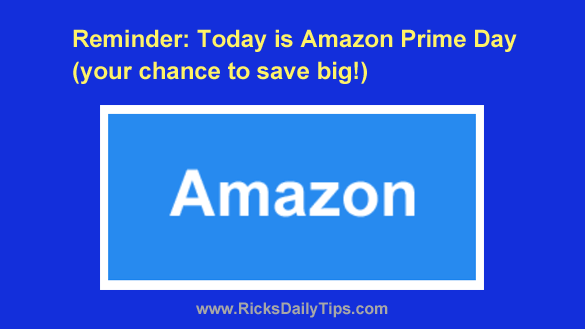 Like my tips?  Click here to sign up for my free Daily Tech Tips Newsletter and you'll never miss one!
---
Note: The links in this post are affiliate links.
Just in case you missed the news, today is Amazon Prime Day.
If you're unfamiliar with Prime Day, it's basically just a short two-day period of time when Amazon Prime members can get huge discounts that aren't available to non-Prime customers on thousands of popular items.
Another way to think of Prime Day is sort of like an early preview of Black Friday.
Anyway, if you've been planning to make a major purchase or simply stock up on a few things you use on a regular basis, today is the perfect time to do it if you have a Prime membership.
If you aren't a Prime member you can sign up right here and take advantage of these special Prime Day savings plus get all the other awesome benefits that Prime members enjoy!
In case you're wondering, you don't have to pay for a full year's Prime membership to take advantage of the awesome Prime Day savings.
You can simply sign up for the monthly plan instead and then cancel your membership at any time.
Bottom line: Millions of Amazon customers stampede to Amazon.com every year on Prime Day to snag some great bargains.
Today is that day so be sure not to miss out!
---
If you found this post useful, would you mind helping me out by sharing it?
Just click one of the handy social media sharing buttons below. Thanks a bunch!