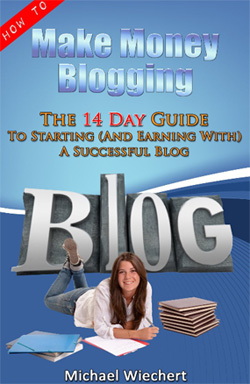 New blogs are created every day, for a variety of reasons. Some aspiring bloggers simply want to share their thoughts and expertise with the world while others want to generate a steady income. But the fact is it's possible to do both!
If you've been kicking around the idea of starting a blog of your own, a great way to start is by reading How To Make Money Blogging: The 14 Day Guide To Starting A Successful Blog (#ad) by Michael Wiechert.
In this wonderful Kindle e-book, Michael walks you step-by-step through a 14 day series of steps for planning, setting up, writing, promoting and monetizing your new blog. Nothing is left out.
I've been blogging for over 5 years and thought I knew pretty much everything there is to know about the subject, but I was wrong. This is truly a blueprint for success that is a must-read for anyone who wants to start and run a successful blog.
Here's an overview of what you'll learn during the 14 day plan:  [Read more…]