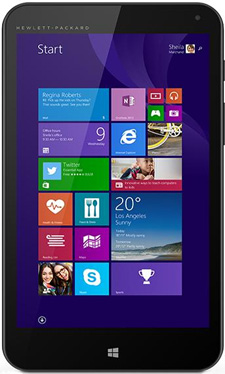 Inexpensive Android tablets are selling like hotcakes because of their affordable sub-$100 purchase price.
But a new generation of low-priced Windows tablets has arrived, and they are quickly becoming the tablet of choice for budget-minded consumers. A great example is the attractive 32GB HP Stream 7 Windows 8.1 Tablet. (#ad)
The 7 inch screen makes it easy to carry this tablet in a pants pocket, yet it comes packed with plenty of power. In fact, its speed and versatility rivals that found in some entry-level laptops.
Although it's quite inexpensive, this tablet comes equipped with a beautiful 7 inch 1280×800 color touch display, a 1.8 GHz Intel Atom processor, 1GB of DDR3 RAM, 802.11bgn Wi-Fi, and two USB ports.
Windows 8.1, a complimentary 1 year subscription to Windows 365, and 1TB of Microsoft OneDrive cloud storage is also included!
What's more, this isn't some cheap tablet with an unpronounceable name. It's made by HP, one of the most trusted brands in the tech world.  [Read more…]