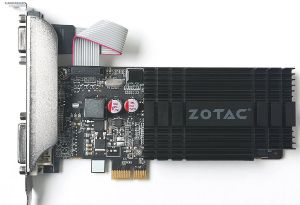 Question from Myron B.:  I have a 4 year old Dell Inspiron desktop PC with Windows 8.1 that started giving me a problem a couple of days ago.
Now when I turn on the computer it will run fine for a few minutes and then the screen will go black and say "No Signal". A few seconds after that it blanks out completely.
I thought maybe the power settings had got changed somehow but I double-checked and nothing is set to cause the display to turn off or to make the computer to go to sleep.
I don't think the computer is going to sleep because all the lights stay on and the hard drive keeps doing stuff long after the monitor has shut off.
I know it's not a bad monitor because it does the same thing with two other monitors that I tried. And it can't be the video card because it doesn't have one.
I'm at a loss as to what the problem could be. Do you have any idea what could be causing this?
I really can't afford a new computer right now and I can't afford to spend a lot of money to fix this one either if I can avoid it.
Rick's answer:  [Read more…]