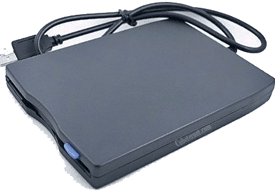 Note: The links in this post are affiliate links.
Question from Anna G.:  Hi Rick. I read your post the other day about playing old games on new computers and it reminded me that I have a ton of old 3.5″ floppy disks filled with stuff that I'd like to check out and possibly copy onto my hard disk.
The problem is my laptop doesn't have a floppy disk drive. Any ideas?
Rick's answer: You're in luck Anna. All you need to do is buy an external USB 3.5″ floppy drive
and plug it into your laptop's USB port. You'll be able to view the files on your floppy disks and copy them onto your PC's hard drive, onto blank DVDs or even onto a USB thumb drive.
There are a couple of things to be aware of however: [Read more…]